What We Do In The Shadows The First Sinful Sunday of 2020
Hello! Happy New Year and Love to you for 2020. Read my 2019 round up post here for great links and inspiration/opportunities for writers.
It's the first Sinful Sunday of the YEAR! Nay, of the DECADE! So I had to join in – the prompt is Shadows.
Shadows must be my favourite things. Because I do a lot of drawing, I'm obsessed with the way light casts shade into all the best places. I can't really look at anything without analysing how dark the shadows are, how deep can they go. No matter how dark you think they are, they are always a shade darker. And that's why I love them.
You have to be brave to go dark enough.
This photo is me in my new cami knickers I got from a Saucy Santa. I absolutely adore ladies in camis. These are my first proper pair! I can't really believe that but I'm usually a big pants gal.
I love to watch the fabric skating and dancing over juicy trembling buttocks and of course, because the silky fabric is so loose, you can just about see what's going on in those oh so tantalising shadows…
For more sexy beginning of the decade images click the lips below x x x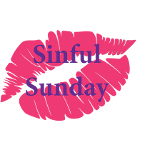 Here's my first ever Sinful Sunday post and it's a drawing exploring shadows…
For something more up to date – why not take a look at I Want My Words To Make You Want – drawings, stories and audio porn x x x