Well hello my Highland Spanking Romance Fans 😀 have I got a treat for you!
I'm delighted to share news of my novella, Tossing His Caber which is out RIGHT NOW on Amazon and Apple! And because of the power of the internet you can buy to read across all the book platforms! Including Apple, Kobo Indigo – the lot! Who doesn't love a Highland spanking romance?
Was she ready for these Highland Games?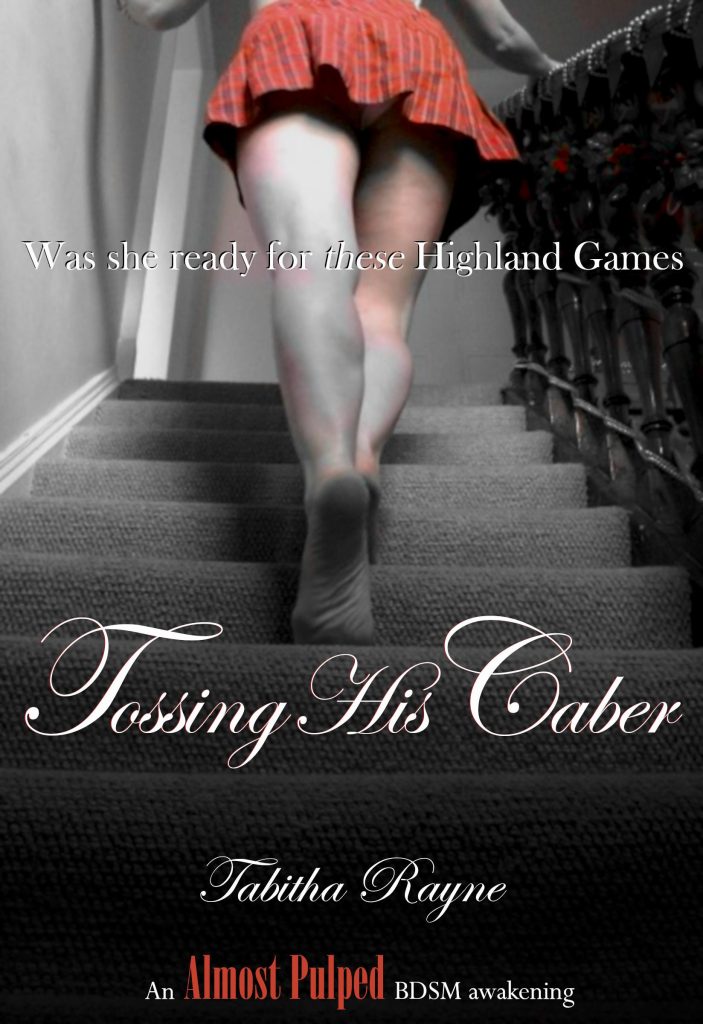 A Sexy Highland Romp with spankings-a-plenty – BUY NOW!
Dissatisfied at work and looking for escape, Journalist Harriet Taylor is only too glad to take an assignment as far away as possible from her London Office.
Heading to Braemar to investigate allegations of drug use at the Highland Games, Harriet is forced into a new way of reporting. Games' champion and subject of her article, Archie MacDonald is a brusque and evasive highlander and Harriet finds herself hot and bothered in more ways than one.
Harriet uncovers much more than she was expecting about Archie's past and his taste for domination. Will she keep her professionalism or will Archie unleash a new feral side to this prim London reporter?
An Almost Pulped BDSM awakening novella
Only £2.99 – available at your fave ebookstore right now!
AMAZON & APPLE HERE
ALL OTHERS HERE
Everybody loves a Highland Spanking Romance…
Here's a sexy snippet to whet your appetite for some Highland Games!
Harriet Taylor's knees locked and she gripped her ankles as he'd instructed. Blood rushed to her head, adding to the giddiness already making her mind whirl. She knew what was coming and every muscle fiber tensed in anticipation of the first blow. She couldn't quite believe how she'd got here, how her world had changed in only a few short days.
He'd carried her like a ragdoll to an area behind the refreshment hut. The throng of the crowd cheering just beyond made her tremble; it would only take one person to see what was going on here and all hell would break loose.
"Did I not tell you to stand still, lassie?" Archie's voice was more of a growl and she realized she'd been swaying. She tried to hold the pose but it was an impossible task. "Do I need to secure you?"
"No, no, sir, I've got it." The last thing she wanted was not to be able to stand upright and bolt if they were caught.
She took a breath, calmed herself, and was rewarded with the click and glide of a belt being unfastened and pulled off.
If ever a sound had liquefied her it was this. Was he going to punish her with leather? Harriet bit into her cheek and squeezed her eyes tight shut, which only served to throw her off balance again and Archie MacDonald put his strong palm on her lower back. A low groan escaped his throat and Harriet could imagine him staring at her upturned ass. Fiery heat spread through her flesh from where his hand lay.
The air was electric around them and Harriet wondered if time had actually frozen.
Her hair fell loose from its pin and over her face; she tried to peer through it when Archie's hand left her body. She could just make out him winding the leather belt around his right fist and she twisted her neck to see his expression. His gaze was absolutely intense and she caught a glimpse of his tongue darting out over his lips in hunger, absolute hunger, for her.
Thwack!
The sound cracked the atmosphere and for a second, Harriet thought it had come from elsewhere. But only for a second. The sting was searing even through her skirt, which barely covered her ass in this pose anyway, but still, she hadn't quite expected it to be so sore.
A second blow came and tears smarted in her eyes. "Ouch," she said, unable to keep quiet.
"Did I also no tell ye tae keep yer mouth shut. The mair ye struggle, the worse it will be for ye, lassie. Do you understand?"
He bent low and fisted his hand in her hair, turning her head slightly. "I asked you, do you understand?"
Harriet nodded and he released her hair, but not before giving it an extra quick squeeze. Delicious shivers ran up Harriet's neck and back, travelling to meet the burning nerve endings on her backside. The pain subsided, leaving a hot stingy stripe right across both buttocks. It had been perfectly placed, just above the point where her thighs met her bottom. Though, she wasn't sure she wanted another right there.
Thwack! Too late, the strike was harder this time and a little higher, then another came, placed slightly differently, Harriet could envisage the pattern, like lattice work adorning her flesh.
Buy this Highland Spanking Romance now!
Her pussy welled with excitement, desire pooling at her entrance, threatening to leak out and expose her arousal from this brutal treatment. Her ass was on fire; four hard strikes of the belt was way more than she'd ever taken but she was so hot and ready now, it didn't feel like enough. She wriggled her hips slightly to encourage him.
"Ahhh, a filthy wee glutton for her punishment, is she? Well, let's see if she deserves any more."
And with that, he carefully lifted up the back of her skirt to reveal her nakedness beneath.
Harriet watched his feet as he dropped the fabric and hopped back a little.
"Hey, wait there, lassie, are you telling me, you've had that tiny wee skirt on wi' nothing underneath all this time?"
Harriet maneuvered her position to see his expression. She expected it to be full of playful menace but instead, she got the shock of her life. He was furious.
"You let me carry you, over my shoulder, past all these people and ye werenae wearin' any knickers?"
What could Harriet do but admit it? She certainly couldn't lie and tell him she'd only removed them after he'd carried her from the middle of a games field and deposited her head down and bent over behind a beer tent. He'd had his hands on her the whole time.
"Yes," she said meekly and chewed on her cheek again. She was caught in a state of complete mind-altering arousal and mortification at her actions. "Sorry, sir."
His fury was white hot, she could feel it as he roughly yanked the scrap of fabric up over her ass to fully expose her to the world.
He lifted his arm and the next thing Harriet knew was the searing stripe of the leather as if she'd been branded. Twice he gave her a good strapping on her bare behind and euphoria spread throughout her.
"You are in extreme trouble, lassie. Don't think this is over."
And with that, he placed his hand on her lower back ready to right her skirt back over her striped hot bottom.
Harriet whimpered, feeling bits of herself fragment off. Her knees were weak as she waited patiently for him to bid her stand back up.
BUY NOW! AMAZON and EVERYWHERE ELSE
This is a re-release of the Highlander's Prize so if you think you've read it already but fancy more of the same – check out my full book list HERE!
Thank you for your reading support! If you are able and willing to leave a review it makes books more visible for others and means I'll be able to turn this highland spanking romance and others into audio (I'm getting through them slowly but surely!).
Thanks so much and lots of love,
Tabitha x x x