Why hello! Here's an erotic poem I wrote for this week's Wicked Wednesday – the prompt is On The Edge – this poem is about the healing power of sex – being stuck inside of ourself and on that brink of not knowing how to escape it.
Some people might not like that so read with caution.
Thin
I look down at my flesh.
There's more of it I know,
I'm weightier these days
but I feel paper thin,
insubstantial.
My body might seem strong and capable
but if you touch it I will dissolve like a moth's wing.
Nothing will be left but a fragile pile of shimmering dust.
Your breath will scatter me, your words…
Your coaxing words
'Let me in
Open up.'
I'm afraid but you are insistent.
I lie frozen
Incapable of pulling you to me or pushing you away
so I do neither.
Silent
You forge ahead, kissing where I yearn to be kissed
Parting where I yearn to be opened until –
you glide inside making me rise to my terrified need.
I come from far away,
my orgasm pulling from the outside in,
the wave of myself folds me back together.
My body clambers to be whole again under the skill of your touch.
We lie together shuddering and glowing
You fix me
Every time…
Do you know that?
Ok so this is kind of an experiment – some words have been jangling around all week and I couldn't pin them into a story so they fell into this poem. For some amazing erotic poetry – try reading some of these by Jade A Waters.
And for more Wicked Wednesday – don't forget to click the big rainbow!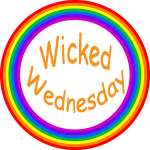 If you love poetry, why not give this one a read: