Period Orgasms – The Weight of My Red Self
A story about period orgasms and how you can get horny as hell during menstruation.
*BLOG UPDATE – Molly Moore chose this as a featured post in Elust 113*
This is for Eye – we had a wonderful discussion about periods and the erotic side of the curse at Eroticon in March. It stayed with me and I've meant to write something since then.
Naturally, there will be blood – so look away if you are a bit menstrual-sensitive 😉
Thank you to Petra Pan for the Masturbation Monday prompt – it's a stunner and very inspiring!
The Weight of My Red Self
Rick didn't like blood on his cock so when I was feeling horny on my heaviest days, I'd call Nancy and tell her to bring Big Ron over.
Nancy was always eager, being a sucker for the red, she gave me a twenty minute warning and hung up the phone.
I sat on the sofa enjoying the subtle clench of my pussy around the laden tampon as arousal and anticipation built.
Big Ron was Nancy's special strap on, reserved only for period fucking.
My tampon was due to be changed but I resisted the temptation to put in a fresh one knowing how it would dry me out and besides, tugging on the string was a particular favourite for Nancy.
The ache in my back and dragging up my thighs added to my want. Strangely soothing to be turned on and in pain. I was over the prickly days and called this the heavy surge. Like a wild feral creature I could think only of coming. I knew the relief it would give, if only temporarily from the deep earthy throb.
There was a knock and I sprang up to answer the door.
Nancy stood in the frame, her '70s sheepskin coat hanging open to reveal her perfect body with only stockings and a rose tattoo to distract from her nakedness.
Big Ron hung provocatively from her fingertips and she smiled, cocking her eyebrow and looking me up and down, her gaze settling between my legs.
"Come in," I said, barely able to take my eyes of her. My womb was heavy with yearning and blood and between us we oozed female pheromones.
Her pubic hair was thick and black and she commanded me to kneel before her, thrusting the strap on into my grasp for me to fit on to her.
I loved her cunt, so red and ripe peeping through the curls. She refused to wax and I leaned in, inhaling her delicious perfumes which gathered there. Her plump lips already glistened with need and it took me all my strength not to lean in and taste her. It was her only rule. She alone would administer the pleasure.
Suited me, but sometimes, I wanted to repay the debt.
I bade her step into the straps and slid them up her endless legs, the thick silicon cock bobbing as I did. She laughed and ruffled my hair as I pulled it into place at her pubis, reaching around her perfect arse to tighten the straps behind. She staggered slightly as I tugged, like tightening the girth on a horse, always feels too much for comfort but she insisted on being held in hard. I think it increased the sensations for her. A shiver of excitement ran through me as I thought of her pretty clit rubbing up against the flat end of the cock that would be impaling me soon.
"To the bathroom," she said and I obeyed.
I lifted my skirt to reveal my bare cunt and sat on the toilet seat with my legs spread wide.
She crouched before me and reached between my thighs to the string dangling there.
It wouldn't take much to pull it out, it was full already and I was well lubricated now too.
My upper thighs and entire groin were aching with the need to expel the tampon. I clenched to resist the tug as best I could knowing it would increase the sensation. Oh and it did.
Nancy pulled, meeting my resistance, she jerked harder starting me in the eye. I let go and opened up and the weighty mass fell from me, warm and glistening with a full and satisfying splash into the bowl. I felt like I needed to pee but she wouldn't allow it.
She took my hands and led me through to the bed where I'd put on waterproof sheets and pushed me onto my hands and knees.
Here it came. No preamble. No kissing. Just a quick hard fuck like always.
I buried my face into the mattress and spread myself wide, visualising the gaping scene of sex before her eyes.
She murmured her approval and placed one hand on my sacrum while I assumed the other guided Big Ron to my entrance.
Slippery and cold it nudged at my hole, I knew I was dripping wet for her. I urged her on by pushing my hips back and she drove the dildo home in one easy thrust slamming her hips to mine. It was hot as fuck and I rode her back, meeting her thrust for thrust as my hot red juices coated her cock.
I was so heavy and full I could feel the dick all the way up to my womb and beyond and the intense fluttering there became a hard contracting as my orgasm began deep within.
It was always like this with Nancy. An all-consuming internal climax surged from what felt like my soul. I stilled to let it mount and build and Nancy sensed it too reaching round to my clit and frigged me to the brink where I hung for a moment.
And then, and then and then, I came, I thrashed on her bulbous cock while she held me fast by the hips. My soul split off to meet itself in oblivion and my body was ragdoll fucked below.
I came to with the sound of Nancy shrieking out her own orgasm behind me and she flopped on top of my panting body.
And there we lay, a sodden tangle of sweat, come and blood.
Nancy never made me hide my red self.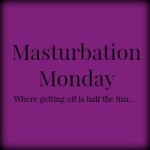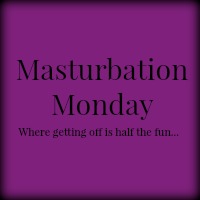 For more sexy strap on stories, click the purple box!

And because Nancy is slightly dominant, this fits into Kink of the Week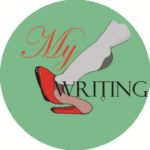 Hope you enjoyed that saucy tale –
take a look round my site, there's lots of free reads and books to buy too x x x