The Last Sex Toy
So I had big ideas for my Masturbation Monday post but I've completely lost it from my mind. Too many things have happened this weekend and now my brain is mush.
I found out that my sex toy Ruby Glow is up for an Erotic Trade Only Award for Most Innovative Product (please vote here :) ) – check out this amazing review by Masturbation Monday host Kayla Lords! And remember if you take part and write a Masturbation Monday post throughout May, you could be in with a chance of winning a Ruby Glow of your own!
So please forgive my giddiness.
Since it's all about the Masturbation, I thought I'd share this sexy scene from the final book in my Clockwork Butterfly Trilogy – it's the point where all possessions have to be thoroughly cleaned in the river and gotten rid of for fear they will contaminate the last remaining forest. This is the scene where Deborah believes she can spiritually connect with her sick lover through Ultimate Unity and pull him into the light. Ultimate Unity is the meeting of souls on the spiritual plane at the point of orgasm. (Sounds bonkers, I know, but it's true and it's a thing.)
The Last Sex Toy – a scene from The Meeting Point
She lifted the strap-on out and took it back to the water with her, rinsing and cleaning it thoroughly. Turning herself on while she wrapped her fist around the dense rubber as she cleaned it in a pumping action. She sat on a submerged boulder near the side of the river, being sure to anchor her feet under the weeds below. If she was going to do this, she had to keep safe. It would have to be strong and quick. She angled her body and opened her legs so that the current rushed directly onto her sex. It was hard and cold, and her pussy lips quickly felt numb.
She pulled the dildo free of the leather strapping, thrusting the harness onto the bank. Holding her pussy open with one hand, Deborah placed the thick tip of the rubber cock to her entrance and closed her eyes. The water rushed and pushed her arm and fist, and her pussy tightened around the tip, trying to halt the invasion. It was sexy to feel such resistance and she wondered if Marcus liked it like that too. When her pussy gripped him hard, not allowing entry right away.
Her tits bobbed in the current, and her nipples buzzed with cold and arousal. She shivered and her cunt gave way, the dildo pushing in just a shade. Stretching her open. She held it tighter, fisting the rubber, feeling dirty and wanton as she pushed harder, fucking herself with the thick dick. Her clit was screaming out to be touched and she rubbed at it furiously as her pussy walls clenched and unclenched around the dildo, swallowing it up inside her. Full and on the brink, part of her spirit broke free and rushed off with the current to come crashing into Marcus as he lay feeble in that other plane.
"Marcus, my love, I'm here for you." She could only see eyes. Dilated pools of darkness feasting on her soul. Warmth flooded her and she wrapped herself up in it. "I'm here, we've got you, you'll be fine. Just keep with me, keep with us all."
A very faint heartbeat became noticeable in the distance, and as she swam around in those eyes, in that warmth, it became stronger and harder, just like the pulse of the dick inside her. They were in harmony, beating out a rhythm together, and she began to come.
Freezing cold water roared around her as she came back into the river, her pussy spasming, bucking, and wanting more, more, more. She rocked her pelvis forward and spread her legs open as far as she could with the dildo hanging out. There was still a fair length left, and she wanted it all. She hovered over the boulder then eased down onto it, using it to plunge the fake dick even deeper into her body. She bounced up and down and held her pussy lips open to the current pressing the other into the crack of her ass, letting a finger probe at the tight hole there.
Heat from her cunt warmed the cold water and with one tweak of her bud, Deborah came as hard and as fast as the very river itself. As she fell into the sublime oblivion she heard one thing, it was Marcus's voice.
"I'm here, I'm not going anywhere."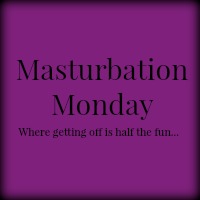 Also – sex positive bloggers and erotica writers, fancy joining in my Self Love is in the Air blog hop? It's happening all weekend this Friday 13th  through to Monday 16th . Prizes and Fun! Click HERE for all the details.
Love Tabitha x x