It's another insight into the authors behind Smut By The Sea – and today Justine Elyot is with me to talk about the lure of the ocean…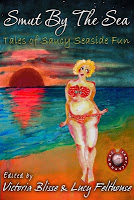 The sea calls to me. I can live away from it, but I'm always relieved when I'm back by the shore. I like all forms of seaside settlement, and there are so many different ones to choose from. Even the industrial landscapes you find at the mouths of great rivers fascinate and inspire me – the belching chimneys, the looming cranes, the chemical colours in the sky behind. There's a grandeur to it all.
Then there are fishing villages with multi-coloured cottages winding down the cobbled hill to the harbour. Genteel retirement resorts full of neat parks and gardens and Victorian shelters on the prom. Loud, blaring strips of roller-coasters and flashing lights. I love 'em all.
Seaside towns are not like other places. They lure a transient population and their microcosm of society is accordingly skewed. I played on this idea in my 2011 Carina Press novel, Erotic Amusements, and it's just as relevant to my story in Smut By The Sea. People pass through seaside towns – and not just the tourists. Sometimes they settle, but often they drift on to the next place. Mark, the faded crooner who plays the Winter Gardens in Love In The Low Season, is a case in point. Like so many people who come to the shore, he's looking for a reason to stay.
Does he find it in my story? I'd like to think so.


Find out if he really does! Here's those special magic links to lead you to the truth…


Amazon UK
Amazon US
All Romance eBooks
iBooks
Barnes & Noble
To find out more about Justine's writing (and if you like great erotica, I absolutely recommend that you do!) why not visit her site – http://justineelyot.com/