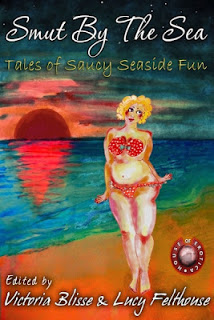 Memories of the Sea
Doing Smut By The Sea was a great chance for me to hark back to my memories of the seaside. I grew up in Lancashire, so for me the nearest coastal resort was Blackpool. Many a school trip was made to Blackpool Zoo, with all the kids pressing against the coach windows wanting to be the first to point and scream "BLACKPOOL TOWER!" But my favourite trips were to the town itself.
Blackpool didn't have the greatest reputation for its beach, I will admit. Nobody ever went paddling, although we did love the donkey rides. But there was always plenty to do. A day at Blackpool would start at the North Pier, continue down the seafront to Central Pier where you could buy fruit dipped in chocolate (mmm, chocolate-coated pineapple), queue for ages to take the lift up the Tower where you could (hopefully) see for miles and get a souvenir penny with the Tower etched onto it, then carry on to South Pier and the Pleasure Beach theme park, home of the Big One, the Grand National and the Avalanche.
Other times we would come up to visit the Sandcastle, an indoor water park, or towards the end of the year we would drive up at night to see the Illuminations. They started at the south end, but my dad would always drive up to the north end first to avoid the traffic queues. It made sense because, let's face it, it made no difference to my enjoyment if the first thing we passed was a sign flashing "Have a safe journey, see you next year!"
As an adult, I would go with my in-laws and the local working men's club to visit Blackpool for a weekend twice a year; they knew a couple who owned a guest house with its own pool. We would book up the place for the full weekend, drive down and spend three days being stuffed with good food and drinking the bar dry. At the top of the street was a tattoo parlour who were responsible for three of my tattoos. Usually at some point the ladies would visit Funny Girls, a drag queen stage show. It was great fun and I'm only sorry we don't do it any more – the couple sold up and emigrated.
So you might well ask why my short story I Like It Wet is set in Scarborough? Well, much as I loved Blackpool, the stories about the state of the sea water are too deeply ingrained. I couldn't face the idea of my heroine Talia being drenched in that stuff. Give me a Scarborough wave any day!



Connect with Tanith!



For all you lovelies that don't have your copy of Smut By The Sea – here are those all important links!