#SSoS – Sharing for the Win!
Nothing stunts my erotic creativity faster than being told (in a roundabout way) that my work is dirty, immoral or will corrupt the children.
As an erotic writer, artist and sex toy inventor I've encountered this attitude in my business life so many times. And I gotta tell ya, it gets to me. Each time my posts get deleted from Facebook or I'm banned, or my books get hidden on indeed taken off retail sites, (B&N actually recently stopped stocking erotica titles) well, it's another chip in my confidence and energy. I'm not the bright young enthusiastic thing I was in 2011 when I published my first story with the rambunctious enthusiasm of a Labrador puppy. No, now when a new book of mine comes out, I kind of sigh, quietly congratulate myself and pop a few tweets out – especially because Twitter censors NOTHING, right?
Well, wrong.
The newest nail in the coffin is folks finding out that they have a 'shadow ban' on Twitter, essentially, this means that one of the Twitter Gods has deemed their content inappropriate and won't show their Tweets to folks that don't follow them, making them utterly indiscoverable to millions of users. Twitter, I thought this was the one place we were free of this shit! Twitter, you were my only Social Media love, I felt safe in your unjudgy arms as I pressed publish on my saucy story with its header photo of my boobs on show for all to see.  Facebook, Instagram, Pinterest, even Blogger all fell from my love with their warnings and tickings off, but you, you Twitter, in my mind at least, were a champion of free speech.
This is all coming to light as yet another platform for creatives, Patreon, has changed its Ts & Cs to mean that anyone selling 'adult' content may not be able to use it. I have had to take my fellow bloggers and creators word for it on this as I only support folks on Patreon, I don't use it to generate income. So it may well be, that that lovely sex-ed blog I support might get pulled, or that lovely blogger I follow may be pushed away from creating essential information. They may be fighting the good fight but nobody can do it with no food in the cupboards!  Sex bloggers, educators, content creators have had to be creative in how they support themselves, and one by one, doors and opportunities are being closed to us all. Amazon is hiding erotica titles, Paypal is snooty about adult content… Banks (don't get me started on banks, I have been close to quitting many times trying to set up Ruby Glow as a business – I need to dedicate a full post to that too). The problem is, the little guys with something genuinely meaningful to say to benefit humanity will ultimately be the ones who are silenced.
We as creators of the erotic, the sublime, the gorgeous sensual aspect of being a human are being pushed to the sides. Pushed out of social media where we will be unseen, unheard, all our important messages that *do* have a place in this online world will be lost.
Like, imagine if The Other Livvy (a fantastic blogger who works for NHS and tries her best to make Sex education and human sexuality a priority in holistic medical care) just imagine if she got fed up with this and stopped!
Or imagine if the fucking amazing Whores of Yore failed to get funding of her new book on the history of sex (see my post here) because a Twitter Shadow ban made it impossible for her to get new backers.
Or Molly, Molly Molly Molly – a sex blog community goddess who runs Eroticon with Girl on The Net – just imagine if they couldn't get the word out about their important work or the fantastic Eroticon event which brings together authors, blogger, sex writers, sex and sexuality educators and all sorts of incredible interesting people.
Or imagine the strain on independent retailers like Luke and Jack or Sh!-Womenstore or all the other folks that rely on Social media to spread the word. And pay for ads that one day are fine, the next disallowed with no reason given.
I have completely stopped posting on Facebook – too many bans – I am a strong, creative, enthusiastic person, but I also take a very long and considered time to put anything out there. A tweet takes composing – lord, I have spent literally hours on making Facebook ads (which FACEBOOK asked for only for it to be instantly banned). I'm sensitive and easily bruised when I am made to feel like what I do is in some way bad or nasty (think of the kids!).  However, I am also vehemently of the opinion that a person's sexuality does not just form on the eve of their eighteenth birthday. No, it evolves through all the beautiful nuances and changes as we live and grow and experience the world. We all need access to appropriate education. We all crave the knowledge that there are others like us. Into adulthood and beyond, we all deserve access to these joyful, exuberant, thoughtful, insightful and sexually dedicated posts.
So – to the point of this post! We need to independently Share our Shit! So we don't have to rely on ever decreasing social media and free platforms.
This is taken directly from Molly's #SSoS post:
"Girl on the Net wrote this fabulous post on Monday calling on people to be more proactive about sharing adult content on various platforms and that was followed up yesterday with Eros Blog proposing that we as blogger who have our own space on the open web should use that to share each other shits too. He said
"I'm going to call this one "Saturday Share Our Shit" (#SSoS) and I imagine it as something like the old link roundups that used to be popular. But I want this one to be optional, occasional, fun, and easy, much like Follow Friday in its heyday. So you don't have to do it every Saturday, it isn't mandatory, there's no set amount of links or set amount of discussion for each one. I'm thinking maybe three links with a sentence or two about each, but here's the core notion: you put this on your own website, not on a tumblr or a blogspot or facebook or any other social media. And the content you share and promote? Should likewise be content that's on the independent web, not on anybody's "free" social media server anywhere."
So apart from this being my response to this ever increasing feeling looming in, I'm joining in and adding some shit to share 😀 (as well as the links already shown)
Lashes by Maria Opens Up
Lashes is a Sinful Sunday image from Maria – I absolutely adore everything about it – Surrealism truly is my first art love so this speaks to me on so many deep felt and erotic levels – also – if Maria is new to you, please look through her site and certainly follow the links she's put there – especially Exposing 40.
The Pearl Diaries
This is a new website to me, I'm hooked. I'm sharing this post which is a review of Scarlet Ladies social event – and so will mention the wonderful #ITalkSex campaign.
And I just spotted a #SSoS from Zak on Sexy Little Pages Why This Community Matters
And finally, because I took a slightly angsty photo to reflect my feelings about shadow banning and that sorta chat, I'm joining in Sinful Sunday with the above image – even though, now I've written this all down and shared some shit, I'm feeling so, so much better! You will too 😀
Click the lips to see folk sharing their sumptuous sexy images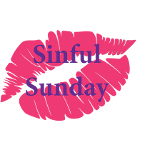 Thanks for reading!
Tabitha x x