Sparkle Nips – a Sinful Sunday post
A huge THANK YOU to the gorgeous Kaylie and A from Bijoux Indiscrets who were also sponsoring Erotion last weekend with their beautiful ethically made vegan sexy products. They let me give a few things a whirl and I must say, I had a wonderful time feeling absolutely sensual AF in this outfit!
Give those lips a kiss for more Sunday (yup, I know it's Monday) Sinners!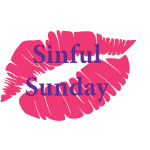 This is part of my TEN THINGS post from Eroticon, but you'll have to wait for the rest as my real life popped up and shoved me me out of time! Sorry – and also, remember the Euphoff is happening so very soon – I'm still working on mine! And 30DaysOrgasmFun