Someday I will snap your neck as you eat me out
Enjoy as audio porn right here, or over at Girl on the Net
Listen as audio
'Lick my cunt,' I say.
I hold eye contact with you and slide down the sofa tipping my pelvis up.
You crawl towards me, staring. My pussy is clutching and twitching, restricted in damp nylon knickers.
I've been desperate for your tongue all day. The yearning began on the way into work as the bus jostled over cobbles. I sat at my desk fielding mundane chatter from colleagues who knew nothing of the fire raging between my legs.
I'd desperately searched my bag four times over for a bullet vibrator to take to the loo but I'd forgotten it again. So I'd sat there and burned.
If only I'd been driving on the way home, I could have slipped a hand between my thighs and drove fast over the gravelly back roads.
But it hadn't happened and I'd been distracted by need and the smell of my own arousal all day.
Part of it was the nylon knickers. The last clean pair in the drawer, the ones you'd never wear unless you had no choice. I'd pulled them on and put folded toilet roll as a makeshift gusset. The paper had ruffled, only serving to draw attention to my cunt all day. At the end of my shift I'd taken it out and rode bareback against the synthetic cloth. It was hot and I grew even more damp, loving the feel of my juices trickle out into the slippery fabric.
'So,' I stare you down, hard, 'Lick it.'
I reach for your hair as you grab my knickers at my hips and drag them off, you face falling to where I need you most.
'Oh fuck,' I clench my teeth and squeeze your hair between my fingers as everything in my world focusses on that one tiny point. A desperate tiny knot of sensation concentrated on the peaking nub of my clit.
The building has been rising all day, tipping me at the brink for hours and now it is ferocious. I grind my pussy into your mouth and you suckle at the exact point I need you to.
'Harder.'
You do, you do. You pull on my clit with your lips and tongue, sucking and flicking with perfect rhythm and I'm suddenly hanging over the abyss, sensing oblivion only a breath away.
I hear my wail from far away then it is upon me, sounds roaring, my cunt exploding out onto you and you keep me held to your face as I buck and writhe, wave after wave of orgasm washing over me.
Finally I stop shuddering and unclamp your head and neck from between my thighs.
Shock and guilt overtakes me as it always does as I watch you wipe your face with one hand and massage your neck with the other.
'Someday I will snap your neck by mistake.'
And you say what you always do as you roll out your shoulders.
'I know,' you say, 'and it will be worth it.'
If you want more raunchy words with the prompt 'Someday I will', click the WW box below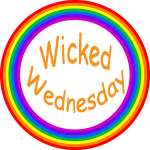 For more sexy Audio Porn – click my Aural Sex Audio category
The first line of this was inspired by (nicked from) the first line of The Novice (formerly The Virgin) by Harlem Dae, the Sexy as Hell trilogy – I still remember the shock of opening the book and reading that first line…