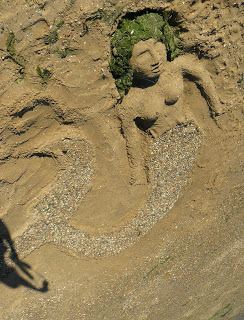 So that's me back from me holidays – though I couldn't resist a thought for y'all and built a sand mermaid to celebrate my story being included in the fabioso Smut By The Sea anthology – with writing from some of my very favourite authors on the theme of… seaside smuttery!
There is also an event planned in Scarborough next year – see here.
And I even sneaked a peek at my emails and discovered that Xcite are including my story, The Gentleman in their upcoming anthology, Cougars & Jackals.
Out now from Xcite is another collection called Cocktales Volume Three, which includes my very first erotic story, Retail Seduction.
So that's quite enough about me… how have all of you coped with this dismal weather? At least we know we can all curl up with a naughty book to warm the cockles – thank goodness!