Small Change – A Guest Post for Sinful Sunday from the gorgeous Jane Gilbert
*BLOG UPDATE* This post was chosen as one of Molly's Top 5! 🙂
Why hello, and a huge welcome to this week's Sinful Sunday post – which I am honoured and delighted to share.
It's been three years and another baby since Jane blogged at Behind the Chintz Curtain. Some of you might not be familiar with her work, but I'm here to tell you, it is stunning. Her photos were always the perfect mix of sensuality and sophistication. Whimsical and so clever. She is also the originator of the EuphOff – one of my favourite events on the internet which has been continued by our fab The Other Livvy – do check it out, it's a hoot.
I was so happy when I saw a tweet last week hinting that Jane had taken some photos and was considering a Sinful Sunday post. She asked me to host it and I can't tell you how proud am to show off this incredible photo.
Here's to many more, Jane!
For more Sinners, click those lips (I am early this week but it's already Sunday in New Zealand where Jane lives)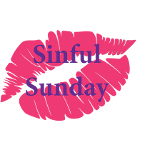 Don't forget my flash sale x x