Show Me How You Burlesque – A Grateful Sinful Sunday Post
Why helloooo – the prompt for this month's Sinful Sunday is G – and G is for Grateful!
Yesterday I did something I've always wanted to do – I performed a burlesque routine for a group of the most wonderful, supportive, and exuberant women, and I absolutely loved it!
It was so liberating; casting off not just my clothes but my self doubts and self consciousness.
Amazing things happen when you team up with other people!
I have been lifted up by so many others this week – doing the 30 Days Orgasms too, where participants share very intimate stories, it's encouraging and empowering.
A quick update on my own 30 Days Progress – today's orgasm is yet to 'come' (g is for… groan) but I'm feeling amped up and excited for it!
Yesterday, a beginning was made but the follow through didn't happen – though I still count it as a win because I honestly feel that lovely oxytocin is released even before orgasms arrive so on the whole I am definitely feeling much more upbeat – despite having the most horrendous earache.
So whether that can be attributed to orgasms, community, change in clocks, the flowers in bloom, birds singing, burlesque dancing, blog reading, who cares! It's all self care and it feels fantastic!
And I am Grateful.
x x x lots of self love from Tabitha x x x
To see more Sinful Sunday images Click the lips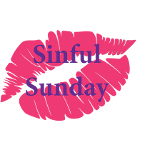 To see what 30 Days of Orgasms is all about click here x x x