Hello, hello!
So this week, the secret I've been keeping for over a year has well and truly come out – I invented a sex toy! Introducing the Ruby Glow – Pleasure for the seated lady.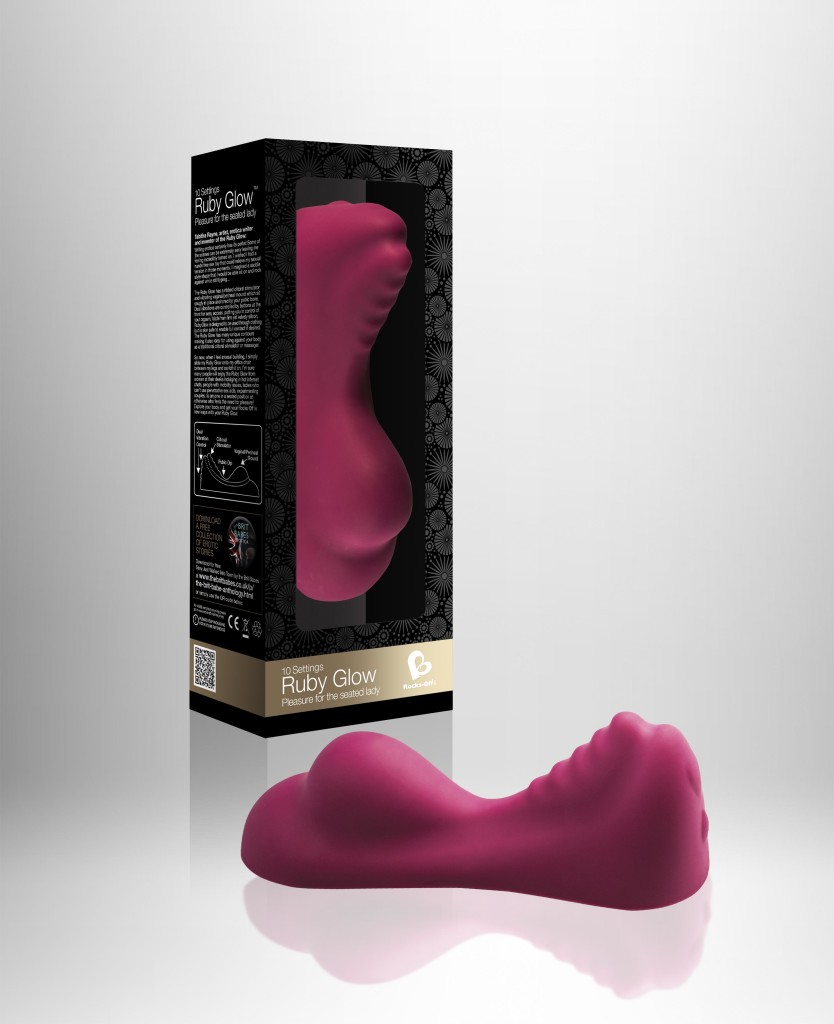 It's built by mighty Rocks Off and launched at Erofame in Hannover – Europe's biggest sex toy trade show. The gorgeous Cara Sutra took some photos – look…
I designed it as a hands free saddle with two vibrating mounds – one at the clitoris and one at the vagina/ perineum area.
I wanted to make a toy that can be used through clothes that doesn't give full penetration – only hints at it – and can offer lovely stimulation for your whole lady area. Being an erotic writer has it's perks and frustrations so a hands free toy that sits between your legs and lets you keep typing is exactly what I'm looking for! It can be used in lots of other ways too – see below. I have also been in a position due to illness where I couldn't use traditional sex toys and was too weak to 'do it myself' so this would have been ideal if I'd had it then. Gives the ladies a helping hand 🙂
You can read all about it in this month's Erotic Trade Only magazine where I have a huge big interview about the whole process.
As a bonus, with every Ruby Glow, buyers get a free ebook! My
fellow Brit Babes have been so amazing and said they would endorse this product
– so much so that every Ruby Glow has a QR code and download link to a
collection of very saucy stories from the Brit Babes, They have really been utterly
invaluable with helping me design this sex toy: KD Grace, Kay Jaybee, LilyHarlem, Lucy Felthouse, Victoria Blisse, Emmy Ellis, and Lexie Bay.
Here's a handy – guide
Whilst being design to pleasure the seated lady, the Ruby
Glow has also been used creatively in other ways to satisfy several ladies
through non-penetration.
·
The traditional hands free pose: Ruby Glow
nestled on your chair between your legs while you sit at your desk with your
hands otherwise occupied. The Ruby Glow sits snugly in place anchored by your
pubic bone to allow you to move and grind to your own rhythm without anything
slipping out of place. The rear vibrating mound applies pressure to your vaginal
entrance/perineum to give a full sensation without penetration. To the front is
a ribbed vibrating stimulator for you to press your clitoral area into. The
control buttons are also to the front for easy access.
·
The traditional pose with added finger action:
The Ruby Glow can also help with adding pressure to the clitoris in a seated
pose. Simply place your fingers between your body and the front Ruby Glow hump
to increase and intensify the pressure of your natural clitoral masturbation.
·
The reverse hands free pose: Gain even more
sensation by spreading your legs and facing the back of your chair with the
Ruby Glow in place. This pose allows you to rock and grind more freely against
the durable vibrating areas.
·
The reclining lady: For days when you have time
to spend lying down for self-exploration, the Ruby Glow can be held and used in
the same way you would use your bullet for clitoral stimulation. It has the
added bonus of a large vibrating area which can be placed wherever you feel
needs it most. Because there is a dip in the body of the toy, it can act as
almost a hook to ensure snug contact on your orgasmic parts.
·
The standing lady: If you prefer to stand while
taking care of your lady business, Ruby Glow can also be held against your
intimate areas easily in one hand. This is useful if you are using the other to
support yourself on a wall or balustrade.
·
Use through light clothing to increase friction.
Your Ruby Glow is yours to
explore and use in ways personal to you and your body.  It is designed to be used though clothing but
is made from skin safe silicon to enable full contact if you desire.
Here's the chat on the packaging
The Ruby Glow has a
ribbed clitoral stimulator and vibrating vaginal/perineal mound which sit
snugly in place anchored by your pubic bone. Dual vibrations are controlled by
buttons at the front for easy access, putting you in control of your orgasm.
Made from firm yet velvety silicone, Ruby Glow is designed to be used through
clothing but is skin safe to enable full contact if desired. The Ruby Glow has
many unique contours making it also ideal for using against your body as a
traditional clitoral stimulator or massager.
Ruby Glow will take
you on an erotic journey deep, deep into the world of personal passion. Close
your eyes, take a breath and feel the power as Ruby Glow contours closely and
intimately to your most secret of places, caressing and stroking you as it
teases your mind and body with each rippling vibration.
Let the potent sensual
rhythms of Ruby Glow be your guide as you feel your body respond and move to
its powerful dual heartbeats, seductively taking you to your ultimate hands
free orgasm.
•             Contoured for precision intimate
contact
•             Dual independent motors
•             10 powerful functions*
•             Clitoral and vaginal stimulation
•             Velvet soft body safe silicone
•             Splash-proof
•             Non penetrative
•             Can be used through clothing
*Note from Tabitha –
is says on the packaging that there are 10 powerful functions – well, there are
two of these little vibrating beauties in there, each individually controlled –
making the combinations of pleasure…well… *does maths on fingers and toes* a
lot!
I have had so much positivity throughout this journey, starting with my friend, Andrew who saw the very first model made from clay and helped and encouraged me through the research and development process – my house has been littered with dental silicon, plaster moulds and vibrating bullets ever since! Rocks Off have made the final product look and feel stunning – I love it. So many thanks to everyone involved.
Woop-woop!
And you – thanks for reading – I'm so excited about this 🙂
From these places and many more!