Self Love is in the Air Blog Hop
The Blop Hop has now ended! Though these wonderful links and stories will remain for you to enjoy, I hope, forever more! I absolutely loved hanging out with you all for an entire weekend! So the winners are
The GRAND PRIZE!! Goes to Karen Shenton!
The portrait prize (Tabitha's choice) – Ms F Dot Leonora! How could it not be? – Not only did she write a super hot sexy story, but she included the use of a Ruby Glow!! A lovely surprise 🙂 – Rocks Off and I decided we are going to give her an extra prize of a Ruby Glow too.
I'm sending the chocolate prize to Oleander Plume she posted her entire story from Chemical s[ex] – a chocolate inspired anthology! She said she's taking it down at the end of the hop but I'm going to see if she'll leave it just a little longer… maybe the chocolate will help!
I wish I could send everyone prizes, you've all been amazing and the twitter feed was bonkers at times! Thank you thank you! x x x I'll be in touch with the winners today x x
Between Friday 13th and Monday 16th May please join in the fun with my Self Love is in the Air Blog Hop!
Sponsored by Ruby Glow! A new sex toy designed by me and made by the mighty Rocks off! And now an Erotic Trade Only Awards Most Innovative New Product 2016 Nominee! (please vote for Ruby Here)
Not only is it spring and the sap is rising, May is also Masturbation Month – and I'm celebrating – Hooray! So we're sharing Spring /Masturbation inspired posts  – fiction, fact, photos, poems, book excerpts, you're sure to find something to tickle your fancy!
All you have do to is visit the wonderful blogs below and comment, share, tweet us with the #SelfLoveIsInTheAir hashtag and you can win prizes and enjoy some fabulous writing too! You can always find your way back here via the gorgeous banner made by Pretty Poison Graphics (AKA Oleander Plume).
There will be a grand prize for all who take part including commenters and bloggers which will be:
Grand Prize
Ruby Glow provided by Rocks Off and paperback copies of Sexy Just Walked Into Town by Brit Babes, Chemical S[ex] edited by Oleander Plume and A Clockwork Butterfly by me.
There will be other prizes too – certainly some chocolates and a vibrating bullet or two…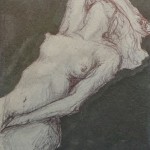 Winners will be chosen at random from comments, posts and tweets with #SelfLoveIsInTheAir – retweets etc. I hope that as many of you as possible will want to take part in this celebration of Self Love with me!
Also, as an extra – my favourite post of the hop will win a portrait of their photo painted by me. (If they would like that, of course!) check my drawings page to see what I'm on about.
Thanks! Do come along, take part, retweet, chat, comment and generally get involved! It should be fun and you could win sexy prizes! I know some of the writers taking part are offering erotic books as prizes so do make sure to visit everyone – who knows you might find your new favourite author or blogger!
Love and joyful wishes
your pal,
Tabitha x x
I only ask that posts and comments be sex positive and respectful – but I know I don't need to even say that! You're all a wonderful bunch and I can't wait to meet even more new folks 🙂
Prizewinners will be notified at some point next week before Eroticon 🙂
Self Love is in the Air Blog Hop Posts!
If some of the links to the participants' sites don't work yet, it's just because of the time difference – please pop back later or click on their name for a trip to their site!