Ruby Glow Won the Kinkly Reader's Choice Award!
You may recall my most recent post about being excited that Ruby Glow had been nominated for an prize at the Storerotica Awards at Anme – welllll, it won, it won, it won! Thank you SO MUCH to everyone who nominated and voted! It was up against some big competition (see full Kinkly list here – some of my favourite sex toys too!).
I had the most wonderful surprise at 3.30am this morning from Jane at Rocks Off who video called me from the event to tell me the news!
I have been sending messages and emails all day but if you know of any journalists or sites who might be interested please feel so free to send over this press release about the award! Thank you again.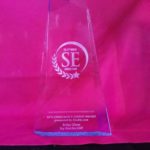 PRESS RELEASE
Edinburgh inventor wins prestigious Consumer Choice category at American trade convention
Ruby Glow, a sexual wellbeing device created by Edinburgh writer and designer Tabitha Rayne, has scooped a top award at an American trade convention, beating off competition from some of the world's largest manufacturers of intimate products. The Kinkly Consumer's Choice award was presented to Ruby Glow by leading US B2B publication StorErotica at ANME – the largest American trade show for retailers of lingerie, sexual wellbeing, and intimate products – in Los Angeles on Monday 16th July, triumphing over nine other nominations in its category.
Tabitha designed Ruby Glow for all women but it has proven particularly popular with those suffering from limited mobility. The device is manufactured and marketed by UK-based Rocks-Off, and was extensively featured in Good Housekeeping magazine and on This Morning with Phil and Holly in 2017, where it received comments such as 'Revolutionary' and 'fantastic for disabled users,' from sex and relationships expert Tracey Cox.
After receiving news of the award, Tabitha said: "I am absolutely blown away at Ruby Glow winning this award, I still can't believe it. The fact that it was voted for by actual people using the product is amazing. Jane from Rocks-Off who attended the event and accepted the award video called me this morning at 3.30am with the news – I'm still pinching myself. To have this kind of recognition for a toy for people with differing abilities in mind is so thrilling."
For more information on The Ruby Glow or to arrange an interview Tabitha and please email [email protected]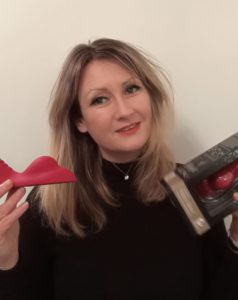 And here's my Youtube video explaining all about the Ruby Glow