Looking for a new sex toy experience?
Enhance your self loving with my new versatile Ruby Glow Blush
So I invented a sex toy: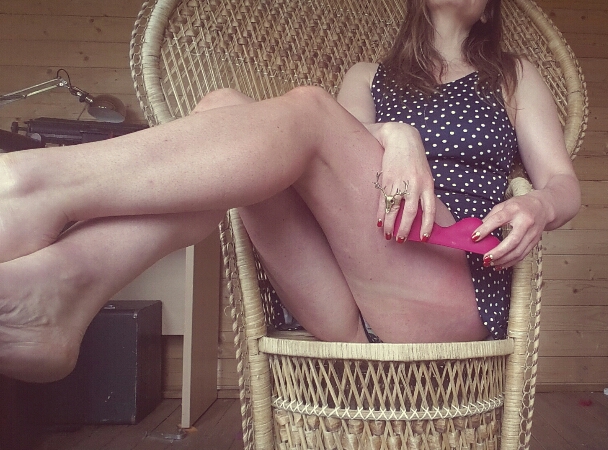 The Ruby Glow – Seated Pleasure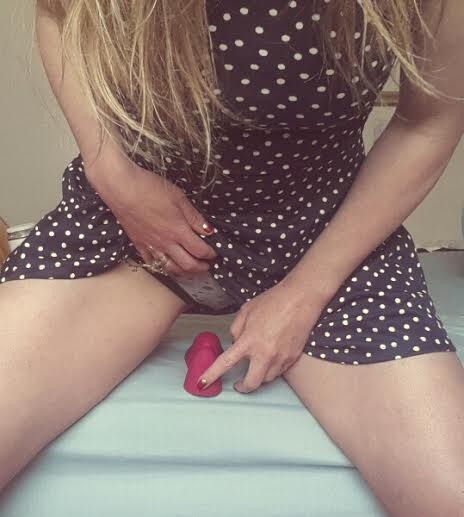 The Ruby Glow sex toy is a saddle style vibrator that I designed and made by Rocks Off! It is intended to be used while seated and is non-penetrative and hands-free for your pleasure. It can be used through clothing and is also skin safe for full body contact.
I wanted a vibrator I could use while writing saucy erotica on my computer and quickly realised that this shape was something that could be used by many women. Perhaps you don't like phallic sex toys, or you have weakness in your wrists, mobility issues or you simply can't reach to operate a traditional sex toy. I sometimes suffer from back pain and being able to sit on Ruby Glow without having to lean over or reach down made a big difference to me.
Here is a video I made all about it!
You can keep up to date with news and reviews on the Ruby Glow Twitter and Facebook page. Buy direct from Ruby Glow HQ for £39.99 with FREE UK P&P also available from Rocks Off and all good sex toy retailers.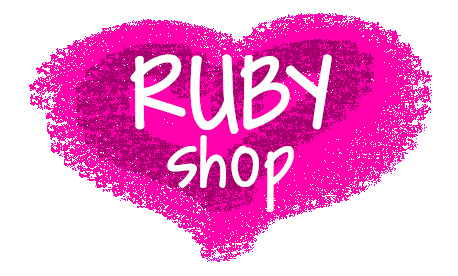 Ruby Glow was ranked 2nd in the Good Housekeeping magazine's annual vibrator review. It was featured on This Morning with sex expert Tracey Cox who called it 'Revolutionary'! Some of the viewers were a little taken aback to see vibrators discussed in the day time but it was a really good section of the show.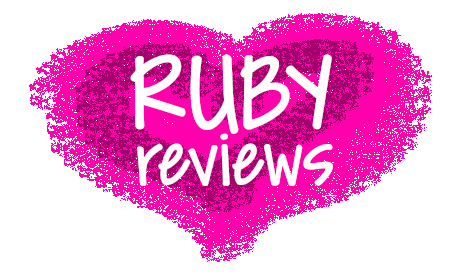 Reviews and Testimonials
"As this is a toy that you can sit on, imagine how good it is for people who can't use their hands or wrists properly, or have limited mobility. The Ruby Glow has made it possible for people who can't use a lot of vibrators… to use!" That's The Spot
"The perfect portable sex machine for creating an erotic experience and setting the mood for the rest of the evening. Practically speaking the Ruby Glow also has great applications for those can't use penetrative toys, cam girls who want to put on a saddle show, people who prefer reaching orgasm while seated, and those with mobility issues. In fact I absolutely adore the Ruby Glow's tagline because it's inclusive of all of these groups—'love it!" Emmeline Peaches Reviews
"I'm a novelist and I write a lot of sexy scenes. The Ruby Glow means I can keep on writing, take care of business, and keep on smiling." KD Grace, ETO Erotic Writer of the Year 2014
"An excellent hands-free orgasmic experience." Lucy Felthouse – full review
"Ruby Glow gave me my first real big O in years." A Ruby Glow user
"As an erotic writer, I can attest that the Ruby Glow delivers – hands free pleasure that's comfortable and easy to use. I'm dedicating my next book to the Ruby Glow!" Oleander Plume
Awards and Nominations
Most recent award – Kinkly Consumer Choice Award – StorErotica Mag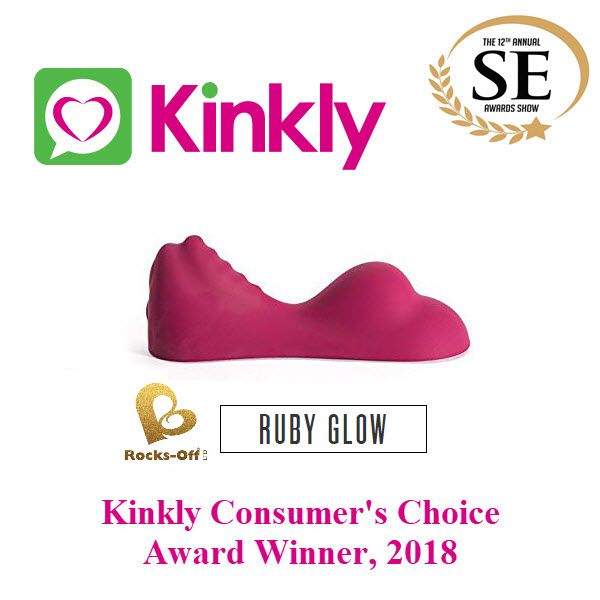 "The Ruby Glow is a classy, unique and thoughtful way for the seated lady to 'hit the spot'." Ruby Glow user
"Overall, I absolutely adore the Ruby Glow. This isn't just a sex toy for writers to use, this is a sex
toy for those having a sexy Skype chat with a long distance lover, someone who struggles with low motility and for those who can't use penetrative sex toys because of gynaecological issues such as vaginismus. There are a lot of possibilities with this sex toy, except writing…. I have yet to write a complete sentence whilst using the Ruby Glow!" Melissa MacFarlane, Voluptasse – full review
"Now let's talk straight – the Ruby Glow cut my O-Time by a THIRD. Yep. I think you need one, too…" Ruby l'Ace, KnickerRockerGlory – full review
"In summary: innovative. That is the word I would use to describe the Rocks Off Ruby Glow. It is something genuinely new. In fact, there are so many possibilities to expand this line: materials, shapes, size, charging options, I could see this becoming a full range!" Supercutesecret, Cara Sutra's Pleasure Panel – full review
"I am able to get started and ready for a great orgasm using the Ruby Glow. It doesn't make me orgasm straight away which is perfect. Instead of rushing things the Ruby Glow builds me up to orgasm slowly and then bam! Orgasm central." Kim, Kinky Kitten Kim – full review
"Yes it looks unlike any vibrator I've seen before, and yes, there's something distinctly odd about sitting upright in a chair whilst wriggling on what basically looks like a very elegant doorstop, BUT IT REALLY WORKS… Pleasure for the seated lady, indeed. Now if you'll excuse me, I have deadlines to meet. Must get back to my desk…" Violet Fenn, Sex, Death Rock'n'Roll – full review
"As a disabled woman I would be delighted to see more toys giving some thought to those less able physically but no less desiring of sexual enjoyment and have enjoyed reviewing The Ruby Glow in part from that perspective. I will certainly be looking to review other toys with an eye to use by the disabled in the future." Kerrie Lacy – full review
In this industry it is unfortunately not that often when a product comes up that is different from the norm and the Ruby Glow is certainly that. The fact that it is also a very accessible toy for those with limited mobility is a huge bonus in my opinion and really feels as though as many people have been taken into consideration as is possible. Justin Decerous – full review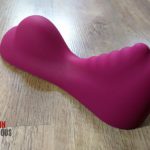 Here's some more information:
Ways to use your Ruby Glow
Whilst being design to offer seated pleasure, the Ruby Glow has also been used creatively in other ways to satisfy through non-penetration.
·
The traditional hands free pose: Nestled on your chair between your legs while you sit at your desk with your
hands otherwise occupied. The Ruby Glow sits snugly in place anchored by your
pubic bone to allow you to move and grind to your own rhythm without anything
slipping out of place. The rear vibrating mound applies pressure to your vaginal
entrance/perineum to give a full sensation without penetration. To the front is
a ribbed vibrating stimulator for you to press your clitoral area into. The
control buttons are also to the front for easy access.
·
The traditional pose with added finger action:
The Ruby Glow can also help with adding pressure to the clitoris in a seated
pose. Simply place your fingers between your body and the front hump
to increase and intensify the pressure of your natural clitoral masturbation.
·
The reverse hands free pose: Gain even more
sensation by spreading your legs and facing the back of your chair with the
Ruby Glow in place. This pose allows you to rock and grind more freely against
the durable vibrating areas.
·
The reclininer: For days when you have time
to spend lying down for self-exploration, the Ruby Glow can be held and used in
the same way you would use your bullet for clitoral stimulation. It has the
added bonus of a large vibrating area which can be placed wherever you feel
needs it most. Because there is a dip in the body of the toy, it can act as
almost a hook to ensure snug contact on your orgasmic parts.
·
Stand up: If you prefer to stand while
taking care of your sensual business, Ruby Glow can also be held against your
intimate areas easily in one hand. This is useful if you are using the other to
support yourself on a wall or balustrade.
·Use through light clothing to increase friction. It is designed to be used though clothing but is made from skin safe silicon to enable full contact if you desire.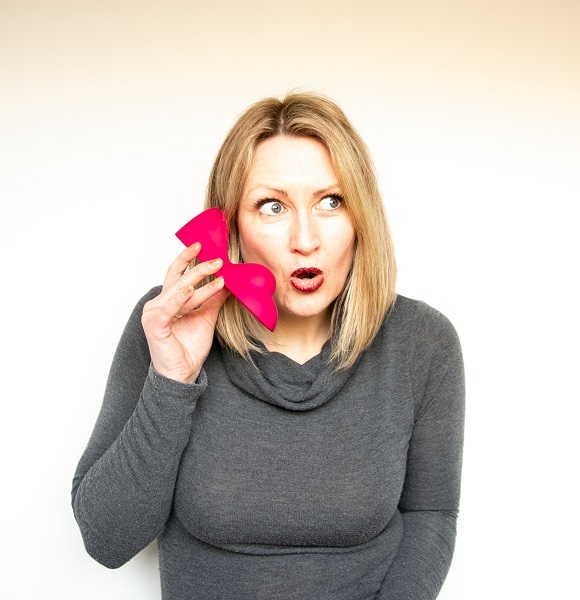 You can keep up to date with news and reviews on the Ruby Glow Twitter and Facebook page. Buy direct from Ruby Glow HQ for £39.99 with FREE UK P&P also available from Rocks Off and all good sex toy retailers.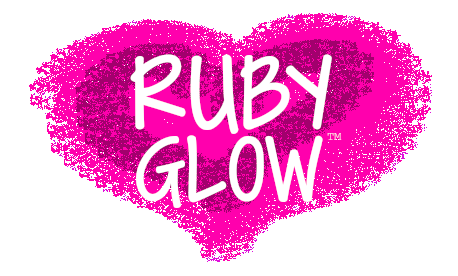 Love Tabitha x x