Hello – it's Wednesday – make that Wicked Wednesday!
The prompt is… Review, Revisit, Revamp which is strangely apt this week.
For the first time, some of my drawings and paintings are going to be in an exhibition, along with lots of other artists and their gorgeous work – *yikes*
Naked Aye Art – Shapes that Shift Desire.
Getting the drawings ready and choosing the best ones involved a bit of each of the Rs.  choosing-revisiting, framing-revamping, sorting-reviewing.
I had to trim Bath Time to fit the mount and I was worried that it would look too different. I liked the space around it and felt like it gave the woman's pose more freedom – but then, when I'd taken the plunge and the Stanley blade and sliced it, it actually looked better to me. More held in – more focussed.
Here's how they look all framed and ready in their Sunday Best.
(these are on my wall – so forgive wonkiness – they will look better at the gallery…) See them individually on my drawings page.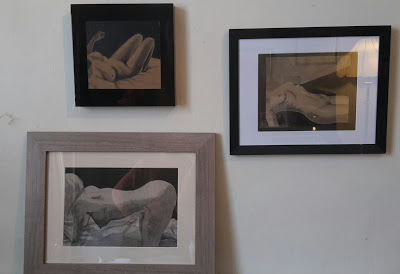 The Pearl Necklace and the Motel Room
Bath Time
The Trick is to Know When it's Finished
I have also just found out that my wee film Penis Envy will be screened on the Aye! Def film night on the 14th Oct (part of the same event). You can watch it right now. This was my entry for Sinful Stories run by Mr Exhibit A and was inspired by the wonderful Molly from Molly's Daily Kiss  – so, thoroughly revisited! It did go over the 1 minute submission rules so I agonised over which bit I could revise and cut. I decided I couldn't – that every bit was essential. Luckily, it still got in.
If you find yourself in Edinburgh and fancy coming along – here's the venue details:
St Margarets House, 151 London Road, Edinburgh EH7 6AE, UK
Here are the Facebook event pages
Naked Aye Art – Shapes that Shift Desire 10am-6pm 3rd-18th October
Aye! Def film night 7pm 14th October
See who else has been reviewing, revisiting and revamping this week at
Wicked Wednesday