Hello there, I've got some news n chat to share with you! In case you've missed my social media announcements, in the lead up to Christmas I'm running a sexy pop up store as part of the Egg & Co Shop in Waverly Market, Edinburgh alongside some fantastic independent businesses! My little sexy corner features the Ruby Glow (of course!) all of my paperbacks and added saucy treats from my good friends from Luke and Jack in Glasgow…
Where to find us…
Come to our friendly Sexy Corner!
Egg has taken over the old Superdry unit in Waverly Mall and filled it to the brim with glorious independent businesses in the lead up to Christmas for a gorgeous shopping extravaganza! Come and get all your sexy Christmas shopping in my pop up shop! Big thanks to Kylie and the team for having a sex positive stall and embracing the sauce! It is a brave move and we've had huge positive feedback and support already.

I'm bringing you my erotic books in paperback and of course, my ride on sex toy range, Ruby Glow. But EVEN MORE than all that, I've teamed up with Luke and Jack, Scotland's biggest sex toy shop, to bring you a range of beautiful lingerie and all kinds of sex toys and saucy products.

Either myself or the ladz from Luke and Jack will be on hand to offer advice on products and demystify the world of erotica and sex toys. It's all about the fun! Reignite your love of you!

Come along, we're open every Tuesday to Sunday from 10am-6pm all the way to Dec 23rd. There's live DJs, planned events and the stores range from books, vintage clothing, handmade jewellery, homeware and so much more.
Take a shop tour on Insta!
Did you know that my Ruby Glow Blush was recommended in Marie Claire recently! I'm selling them in person at my Sexy Corner for a fantastic price! Get in touch if you live too far away and can't make it along…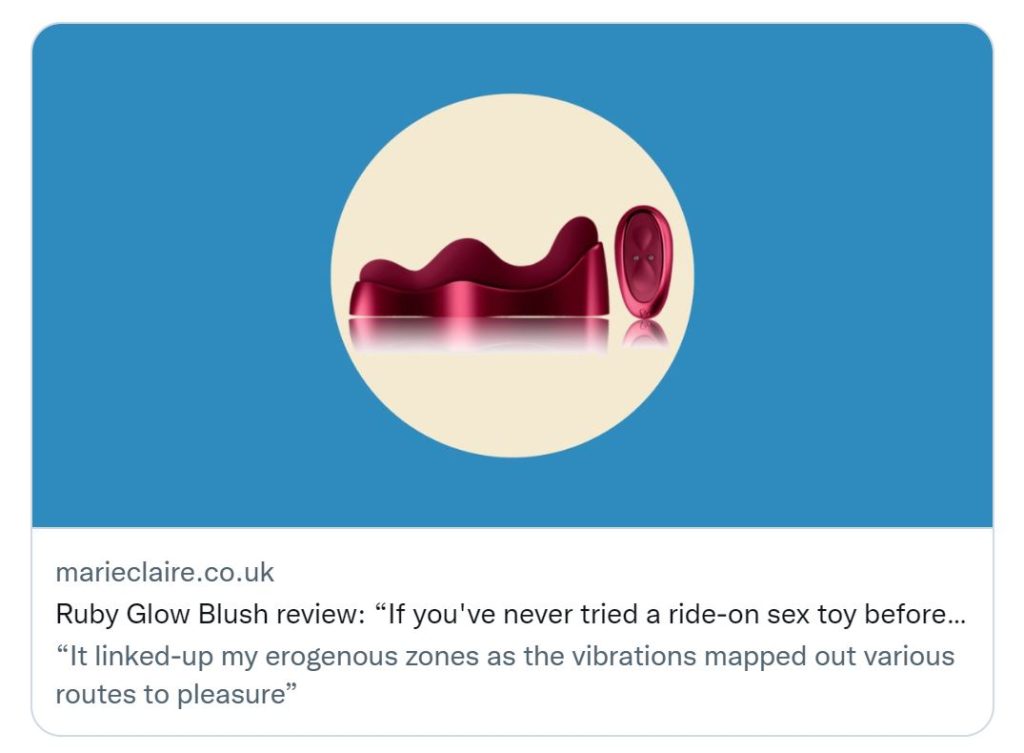 Play rude word roulette with me! 😀
Let's play Rude Word Roulette 🤪So I've been having all my books printed in time for this EGG shop sexy corner and it is the perfect opportunity to see just how filthy they really are by playing Rude Word Roulette 🤪 Yes they're my books so I have stacked the odds of finding saucy words pretty high 😁 First up… Drenched! Remember you can play in person at the pop up Egg & Co shop in Waverly Mall Edinburgh
Articles and erotica from the web
Thanks for reading! – I hope to see you at my little Sexy Corner!
Sometimes you've just got to invest in some sexy lingerie to make everything right with the world – then act casual like you just threw it on…