OMG We Made It! #30DayOrgasmFun
We did it!
It has been quite the month! So you may know I started 30 Day Orgasm Fun to lift my mood and to be honest it's been quite a roller coaster. I've been watching everyone who joined in, seeing experiences unfold, through their blog or their hashtags.
There's something quite different to embarking on say, a fitness squat challenge, than making the orgasm the focus. It can cause a lot of anxiety or feelings of disappointment or inadequacy if you don't manage to keep up. So I really, really wanted to make sure people knew it was NOT a challenge – just something to help get you to focus on yourself – seducing yourself for a little while every day. If you orgasmed every time – whoop yeah! Go you! That's amazing – if not, but you still connected with yourself, that's fantastic too.
If I do call this a challenge, then I failed miserably – I managed maybe 20 days if I'm being generous – and I needed help from my partner most of the time- I told my fucking spreadsheet to fucking fuck off, and I had a total crisis in the middle – see here (contains trigger warnings).
But I didn't call it a challenge – I knew I'd set myself up to fail as I'm quite contrary and would have probably deliberately sabotaged it. I called it fun. And the reason I tried to have an orgasm every day is because I know for a true fact that after I come, I feel at peace and I love myself. I wanted to try and get that feeling to gather momentum and lift me up spiritually and emotionally.
And on the whole,
IT REALLY WORKED!
But the best thing of all was the excitement of opening up Twitter and seeing more and more uses of the hashtag #30DayOrgasmFun and #30DaysOrgasmFun (yes, I made a booboo at the start and spelled one differently!) people joining in and sharing experiences – it is a beautiful thing.


Some loved it and learned a lot about themselves, some hated it but still learned about themselves, some backed away completely as it triggered anxiety, some had orgasms every day, some did not – blimmin Victoria Blisse tallied 69! Hats off 🙂 some kept vigilant records, some, like me, did not 😉 I am absolutely in awe of people. I love people so so much. I love how we all connect and share our lives, and live and learn and grow. Submissy even incorporated a new style of fiction – The Dribble – a 30 word orgasm tale! I'm so impressed.
This beautiful post by Eve Ray made me so emotional – The Finish Line  "I am loved and have a lot of love to give that those who love me (whether sexually or otherwise)"
Thank you to everyone who took part this year – I've put all the posts (positive and negative experiences) in the original 30 Days Post here. I'll keep adding to it so if you don't see yours, drop me a comment or line.
I'm adding this post to Masturbation Monday –  because it's all about the orgasms and the prompt for this week comes from a dedicated participant in the 30 Days – and that is Elliott Henry who never missed a day! His photo prompt is LUSH and will give you a real boost to starting Masturbation May!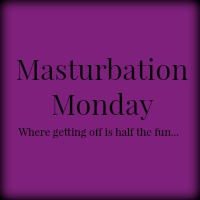 And now, I really ought to go as time is ticking on and there's one final little thing I need to take care of before midnight 🙂 😉
With so much love to you all
Tabitha  x x x