It's Sinful Sunday! I bought some new jewellery and felt like trying it on.
This set is by Nipplelicious and adorns all the special parts above a lady's waist.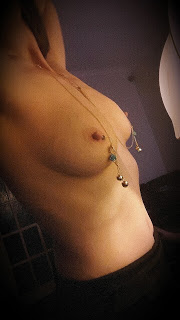 No piercing required
Click on those sexy lips to see who else is being sinful!
A post script…
So one of the reasons I decided to take this picture and display it is because my mother died when she was quite young – of breast cancer – as I get nearer that age, the younger she gets. I am very similar to her in many ways both physically and spiritually so part of me lives with the thought that I will come to the same end around the same time. But this does not depress me in the slightest, it drives me to make each day special and find the world inspiring and invigorating even in hard times.
So I decided to be a little less prudish and a little more brave – after all, yer a lang time deid! This picture is my celebration of that.
Thanks for stopping by x x x