Light in Places – #30DayOrgasmFun for #SinfulSunday
Why hello! Welcome to my Sinful Sunday – The prompt for April is Song Title
I simply could not pass up a chance to share lyrics and a video from my favourite artist ever. Peaches.
Please watch the video above  (there's actual ass lasers) – and then get lost in the world of Peaches
Light in Places
I got Light in places, you didn't know it could shine…
I'm an everlasting iconoclast
I came to destroy the past
My stargasm makes the blast
Shake the system, then surpass
Liberate en masse
Eliminate the class
All humans, free at last
So much beauty coming out of my ass
 *
My photo was also inspired by the gorgeous Eye's Sinful Sunday,
Annunciation
 – when I say inspired, I mean I totally copied it… take a look.
I was lying in the sun, post
#30DayOrgasmFun
climax when I lifted my legs and they captured a beam which shone directly to my clit! It was glorious – a tiny personal natural miracle.
For more sinful song lyric inspired images, click those sexy lips!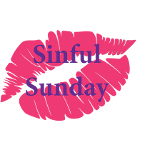 See you next time x x x
Obviously the copyright for these lyrics belongs to Peaches, I'm posting them gratefully and hope she doesn't mind me sharing her genius with you all! 🙂