I have a lovely guest today – a Beachwalk Press buddy, the delightful Emily Wood with her new book which released last week!
Hello everybody! Thank you for stopping by to read about my new release Let It Burn…
Blurb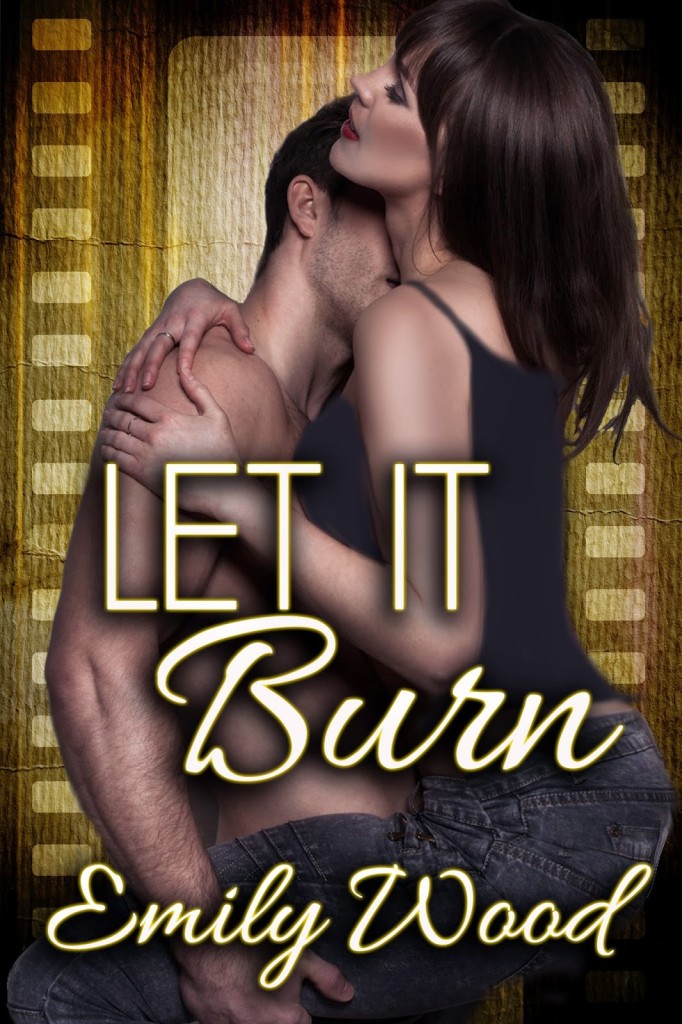 Sometimes one person can make you question everything you thought you wanted.
Lydia James is a struggling scriptwriter with big dreams. She's determined to conquer the movie world, and equally determined to stay out of the limelight while she does it. So what happens when she meets Ryan Sharpe, a British actor and Hollywood's next big thing? He could hold the keys to her future, but with him, flying under the radar doesn't seem to be an option.
Ryan has learned his lesson when it comes to women. In his experience, relationships mean heartache and pain. But when he meets Lydia, everything changes. She's a breath of fresh air, and everything he didn't even know he was looking for. There's just one problem—she doesn't want to be a part of his life. Will a weekend in Saint-Tropez give Ryan the opportunity he needs to win Lydia's heart, or will their desires turn to ashes?
Content Warning: explicit sex
Excerpt
"So what is it about the party that you're so desperate to avoid, Lydia James?"
She sucked a breath in and blew it out slowly. She didn't miss Ryan's eyes flickering to her breasts as her chest heaved. They lingered there for a moment.
"Honestly, I'm totally out of my depth." She paused, wondering how much he would actually want to know and how much would just be a rant. She decided to go for it anyway. "I'm a writer. Or at least, I want to be. I have a story…a script. I also have an agent who brought me here to make connections. That's what he said anyway, but…he's been hinting that he expects to get something out of this, if you get what I mean."
"Ah."
"Yeah. Obviously, I would never do that. But how the hell do I get out of this? Do you have any idea how hard it is to get an agent?" She remembered who she was talking to. "Of course you do." And then she looked at him again—he probably had exclusive rights to Hollywood based on his jaw-dropping good looks. Even mere mortals like directors and producers bowed down to gods. "So my problem is how do I get out of this without him blackening my name forever?"
Ryan's face had been a picture of amusement since the moment he'd turned on the light. But suddenly something far more dangerous danced in his eyes, although he was obviously struggling to hide it. A thrill shocked her whole body before finally settling in her lower abdomen.
"The damage has been done," Ryan said. His voice was slow and tight. "You can kiss your agent goodbye. Not literally though. I'm afraid the industry is rife with people like that, and if he doesn't take you seriously now, then no offense, but no amount of sexual favors are going to change his mind."
The blush that had colored her cheeks earlier was nothing compared to the heat that filled them under Ryan's angry gaze. Her skin was suddenly so hot that it made her eyes water. She felt dirty and ashamed, and she hadn't even done anything. Jesus, she wouldn't have even dreamed of doing anything with that man out there.
"I already knew that," she snapped. "I came in here to get away. But how do I… Whatever I do now I'll offend him."
The anger in Ryan's face melted away enough for mischief to creep in. He stood up, walking over to her in a slow, deliberate way that had her heartbeat doing the exact opposite. She pressed her back against the door as he approached. He was even more captivating up close. A tiny corner of her consciousness worried about what he intended to do while the rest of her screamed approval at all of the naughty things racing through her mind.
But of course, she wasn't in a fairy tale, and heartbreakingly handsome actors didn't kiss lowly dreamers like herself. He stopped short, his perfectly sculpted lips moving to breathe in her ear rather than meet her own. Lydia let her eyes flicker closed, his intoxicating, spicy scent threatening to turn her into a puddle at his feet.
"If the only man who could make your career is about to drop you, then there's only really one thing to do."
"What's that?" Lydia managed to croak, painfully aware of how close she was to touching heaven.
"Make sure everybody else knows your name."
Buy Links
About Author
I have always believed that the best stories are the ones that you can't put down, the ones that transport you to a different place and make you believe in the characters. This is exactly why I write… I have always loved the escapism that reading and writing provides, and there is nothing more exciting than imagining your own set of characters, and then letting them practically write the story for you. Writing has always been a dream of mine, and I'm lucky to have the kind of people around me that have always nurtured and encouraged my passion.
I live a cozy little life in Wales, and when I'm not writing I'm taking care of my young family, and studying for a degree in Classical Studies. I love traveling to new places, meeting new people, and experiencing new things…it's all great inspiration for my books!
Author Links