In Praise of the Unruly Bush – a Sinful Sunday post
So I've always had an an unruly bush – I used to be embarrassed about it. I have tried in the past to tame it with waxing or razors but when it's exposed, I feel like I'm being shouted at from below. A constant chatty companion that won't be quiet. So I let it go wild and free.
I'm finally feeling able to be loud and proud because one of my closest and most fashionable friends has recently grown a magnificent bush, so in praise of hers, I'm showing mine :).
And I also came upon this survey by Sh! Womenstore and it turns out (from this survey at least) many other women wear a fuller bush too!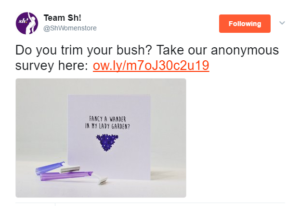 So hooray for the bush – whether yours is mighty, unruly, clipped, fluffy down, or a hair-free smooth delight!
For more Sinful Sunday posts and photos, click those sexy lips x x