Heaven is a Place on Earth
Mamma, her voice is so soft, she treats me so gently.
Her words land like powder snow on my skin, not like the daggers the Pastor spits.
Those wounds are deep and plenty, but she soothes them with her careful tongue, Mamma.
And her touch, if you could feel this touch, Mamma I know, I just know you'd be ok about it. It's not the hard slam and thump of your man, it's the caress of an angel. A real Angel, not the ferocious collectors of souls that spy on our every move. Not the tell-tale ones who ease open the crack in the door to hell just that little bit further when they watch our sin.
Mamma, if you only felt this love, this real true deep aching love, you'd know it can't be wrong.
You'd know it.
I know you say you feel the love of Jesus but mamma, I don't. I just fear him. I only feel guilt, destructive, thick and deep. Slicing me from the inside out, tearing me to pieces until I'm ragged with it.
But she heals me. She makes me whole again, how can this be wrong?
How can this be wrong?
She tells me things to lift me from this heavy place, up into her billowy grasp.
She says things to make me smile, and to think.
She asks, why did my mamma have babies if she's so concerned with what happens after they die? Why didn't she let them stay in Heaven where they were pure and uncut by these rules of earthly things? Why didn't she just leave us where we were, safe in the arms of the Lord, unclaimed by demons of the physical world?
See, she makes me think a lot. As she strums my burning skin and makes me rise for her, I could burst with the raw joy and pain of it.
If only you could feel her touch, her words, her love.
Then you'd know for real that it can't be a sin.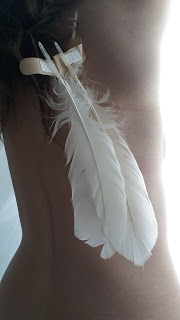 This post is for M
Love is the only thing x x x x
For more hot stories, please click the rainbow through to the wonderful Wicked Wednesday meme