Hangover Hunger
We came home from the party too pissed for sex and now it's morning and I'm pacing. Too delicate for coffee, a headache gnaws behind my eyes and my cunt counters it with a ferocious ache.
I seek you out. You're crouched on the floor picking up last night's post party debris and I approach, pulling my robe to the side.
"Eat me out," I say and my cunt clenches as you turn, still kneeling, with the same hunger flashing in your eyes. "I need to fuck your face until I come."
You crawl on all fours and push me back, slamming me against the wall and disappear under my robe, straight to my throbbing pussy. You pull me apart and slide your tongue over my whole vulva then land on my clit, sucking and licking and I'm mewling while I grab your hair and pull you on to me. It's feral. My want is rising and when you shove two fingers inside, it feels like ten and you're ripping my raw need apart, doing all the things I need you to. My body convulses as my climax mounts higher and higher while you fuck me hard with your fingers.
I pull tighter, you lick faster, fuck higher until it becomes a blur and I surge and come, a shuddering force spilling out onto your hands and face and I hold you while you keep suckling my clit, bringing me off in waves again and again.
Happy Sinful Sunday! For more naughtiness, click the lips x x x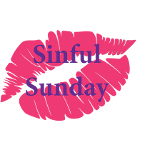 And because the prompt for Ms F Dot'd Friday Flash is so red, I'm adding it there too – click the logo for other hot flashes x