Free Sexy Stuff for you During Isolation!
Happy quarantine folks! It might be hard but what better time to explore your sensual side? I've put together some free sexy and erotic goodies…
First of all, *hugs* (from a distance). I mean, wow, the world has changed since the last time I posted here, tail wagging with excitement about the erotic weekend in London – with the Sheros event at Sh, Eroticon and Erotic Trade Only show planned. It's the biggest weekend in my work calendar.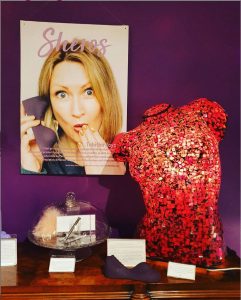 As I travelled down to London last Thursday the 12th March, I had the terrible feeling that things were going to go down fairly rapidly. After discussions with several friends and colleagues it was clear the conferences and shows were going to be cancelled, but after discussions with Sh, we decided to go ahead with the Shero event. A small evening with bubbly – it was sensational, we bumped elbows, got drunk on bubbly from FrolicMe and heard amazing readings and talks from some of my favourite folks. Oli Lipski, Anna Richards, Jayne Renault, Evie Fehilly, and Zak Jane Keir stood in for Victoria Bliss, Kd Grace and Posy Churchgate who couldn't make it due to the spectre of Covid 19. Find all their links in This Post. I even showed off my new Ruby Glow Blush which is due to come out in July all being well. It was received well and really amped up my excitement about it! So thank you!
In the afternoon preceeding I had a great time recording with Hannah Witton for her Doing It podcast so keep an eye out for that! There will be special offers there.
To those who came along, thank you, we had an absolute ball and it may be one of my last outings for a very very long time. I booked an earlier train back to Scotland and have been isolating since.
It's made me wonder what can I do to help the situation. I know they say those of us who can and are isolating *are* doing an important thing, it still feels, hmmm, lazy? or I don't know how to describe it, I'm usually proactive and like to offer practical help, taking stuff round to folk etc, (my friend has been amazing dropping bread and goodies off to me! Thank YOU! I will return the favour when my 14 days are up!)
Aaaanywayyyy I decided I can pull some information together to make sure you all have fab access to free sexy stuff over the internet – after all, what else are we gonna do but reach for a saucy story/film and vibrator 😀 Keep that orgasm count up!
So the first thing is, I put my erotic collection of stories up for FREE – Drenched – tantalising tales to make you glow! Go on pop and get one now with this like. If you'd rather a PDF copy, email me [email protected] and I'll send you one.

Did you know you can get access to all the stories on FrolicMe porn site just for signing up to their newsletter? You get a free sexy film too!
Girl on the Net is an absolute goldmine for free sexy stuff! Including her incredible Audio Porn project – take a look out for some of my stories there, you'll hear my wee Scottish voice. Be sure to check out GOTN's site sponsors too – they are mainly indy companies so could do with support at this time.
Please keep an eye on my Insta and Twitter – I have some very awesome and stunning sex toys generously donated by Rocks Off which I was supposed to be giving away at Eroticon – so instead over the next few days and weeks I'll be sharing giveaways and chat on my social media channels. There's some absolute BELTERS for you!
What else – there are so many amazing erotica authors and sex bloggers out there – check out Molly's 100 top sex blogs, Kinkly's sex blog super heroes and my own Great Sites for You page!
My wee cousin is a paramedic and he is on the frontline. I beg, for his and so many staff like him, please stay home for their sake. I hope I can in a very small way, make isolation a bit easier with my books and goodies.
It's very strange times! But I'm feeling the love span across the social distancing!
Ooo and if you want to try your hand at the worst imaginable sex writing, Livvy is valiantly hosting the EuphOff again this year! Quick though, only 9 days to enter! See my EuphOff posts here.
Take care everyone, love you lots an dlook out for each other x xx
PS – if you have any free sexy stuff you want to shout about put a link in the comments – especially if you're the creator! Let's make a list, I know I'd love to fill my Kindle (and other things…)
PPS – read all about my first bondage experience over at Cosmopolitan!