At last! The second fantasy novel in my dystopian trilogy is OUT NOW!
Taking Flight is a relaunch and the sexy prequel to A Clockwork Butterfly – my first erotic fantasy novel.
The trilogy has been called 'A sexy Handmaid's Tale', 'Eroticism at its finest' and 'Batshit crazy'!
I would love to take you on this journey into a world where sexual connection become an important way to stop the fear and toxins raging through the world at a devastating rate.
At times where the our real world feels ever more dystopian, let my words take you deep into that place where eroticism rules and where our bodies and souls entwine to make everything feel as one…
Here's the back cover blurb:
Taking Flight
Lovers on the run in search of a bond that transcends all else.

Dr. Deborah Regan is a scientist working on a cure to the poison that's killing the male population and destroying the natural world. But when she makes a breakthrough in her research, it becomes clear that the authorities have no intention of finding a cure, and now that she's getting closer to an answer, she's a threat to them—a threat they need to deal with quickly.
Deborah and her partner, Marcus, flee to the forest where they meet another couple on the run. Birch and Hazel show them how to survive in the wild and teach them the theory of ultimate unity. They believe that by finding sexual nirvana at the point of intense orgasm, they will break through the barriers of physicality and become one.
It soon becomes apparent that Deborah has an aptitude for falling into this trance-like state, and she manages to bring Marcus on her journey. Their spirits can indeed join together at the meeting point, suspended in time and space while they climax.
When Birch and Hazel become jealous of the young couple's ease at reaching ultimate unity—something they've unsuccessfully tried to do for years—they betray Deborah and Marcus to the authorities. As they are separated, Marcus begs Deborah to continue to search for the ultimate sexual unity, because he's convinced that no matter where they are, this connection will allow them to meet again on a spiritual plane.
Will this metaphysical union be enough for a couple so deeply in love?

Content Warning: This book contains apocalyptic peril and graphic sexual content, including m/f and f/f sexual interaction, along with BSDM
Buy now! Or read for FREE on Kindle Unlimited
If you do choose to load up your Ereader with this juicy fantasy novel, THANK YOU! If you love it, please please leave a rating or short review – it really makes a difference to visibility.
Allow me to get serious for a moment…
Now, if you love your saucy content, please know that whilst we appear in many ways to be opening up about sex and sexuality on one hand (for example, Netflix's, Sex Education or THIS INCREDIBLE bit of cinema: Good Luck to you, Leo Grande – OMG), in many other ways, we are really taking major backwards steps (see this incredible blog on Abortion rights by Girl on the Net).
I've been around the erotica world for many many years and it has always been hard to promote or advertise my work. I've been blocked from Facebook so many times and censored all over the place. It is a labour of love and a battle of wills to keep going. I'd love to say I'm rolling around in a pink silky nightie all day wearing marabou slippers and sipping cocktails, but the truth is more like trying to take out an Amazon promotion or Insta ad only to be told NO – YOU CAN'T DO THAT – YOU ARE DISGUSTING.
This is wearing, demoralising, and makes me question why the hell I'm doing it at all. But deep down I know that sensuality is important. Making this work and helping people connect to their erotic side *is* important. Having a voice to tell others 'it's fine, you're allowed to feel these things! You're allowed to turn yourself on, feel yourself, love yourself' and if reading erotica aids that, then I need to keep on keeping on…
So here's the big ask – ratings, reviews and sharing the news of books you've enjoyed is absolutely essential to saucy books being successful – or at least successful enough to enable authors like me to keep writing and other things like producing our work as audiobooks. Most of us put out quite a lot of free content for you to enjoy so a share here and there also helps boost our morale 😀 so if you can, please leave me a review if you read any of my books.
The reason this trilogy is being relaunched is because my lovely publisher closed its doors in December so along with their platform went all the sales info and reviews the books had already gathered. So I'm doubly hoping you'll help a gal out here <3
Back to the Clockwork Butterfly trilogy – the first in the series is also out with a lovely sultry new cover too – so give it a whirl!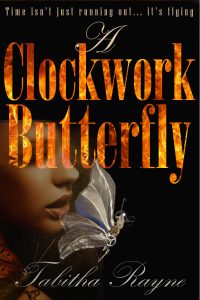 Lovers torn apart by duty while the world teeters on the brink of survival.

Mankind is close to extinction. Toxins have all but wiped out the male population. The remaining fertile men are housed in manors where their seed is collected.
Lena Lee is a new collector with a rare pheromone believed to reignite human fertility.
She's assigned a male who's predicted to be her perfect match.
Angelo, a clockwork butterfly maker, is held captive, his essence harvested daily by Lena. Over time, the couple begins to fall in love, something which is strictly prohibited. When their forbidden love is discovered, Lena is banished from the manor.
Torn apart by the duty that brought them together, Lena and Angelo must find a way back to each other. But even if Angelo manages to escape, he doesn't know where to find Lena. Will following the path of the clockwork butterfly lead him to his true love?

"A sexy Handmaid's Tale."
FREE on Kindle unlimited
Oh, and if you're keen to explore aspects of your sensuality other than your imagination, my newest sex toy, Ruby Glow Blush has just been named Number 1 in Alix Fox's TOP 6 SEX TOY LIST for Fabulous Mag!
Thanks for everything <3
Love Tabitha x x x x