Every Vote Counts Indeed!
Why, hello – I just found out yesterday that Ruby Glow (the vibrator I invented, made by Rocks Off) has been nominated by Kinkly readers in the Consumer Choice category of the Storerotica Awards!
I'm absolutely delighted by this news! Those of you who follow this blog know I'm passionate about orgasms bringing together mind body and soul and believe that this product is not only good for women who love a good old grind, but is great for women who might have mobility issues. Because it is non-penatrative and hands-free, it really is a unique product. Rocks Off really did take a chance on my design and I'm super grateful for that.
It's already received Sign Magazine award for Most Innovative New Toy 2016 and was a nominee in the Erotic Trade Only awards too. It was even featured on Holly and Phil's This Morning TV show and came 2nd in the Good Housekeeping Annual Vibrator review. See all here.
So, please, if you can, practice your voting skills for the BIG ONE (GE17) tomorrow and click on through to RUBY GLOW to place your vote.
Thank you Thank you! And thank you to Kinkly readers for the nomination!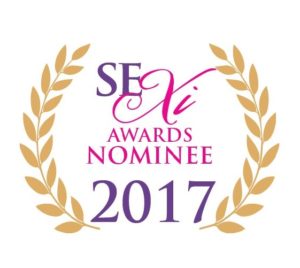 Do you have a Ruby Glow yet? Here's a link to my super secret sale – 25% off and free postage!
Shhh, it's a super secret 😉