Hello and welcome to my 10 things I took from Eroticon round up – and I'm delighted to also be taking part in Wicked Wednesday.
I was sad that I didn't get to see Marie this year – she's gorgeous and amazing so I'm glad I can do Wicked Wednesday and feel like she was there.
I will go into some of these in greater detail when I come properly back down to earth!
*PLEASE NOTE – LINKS AND MORE PHOTOS TO BE ADDED!*
#1 – Sexy new clothes! Look at these beauties from Hot Octopus (I do look forward to my new T-shirt from them each year…) and Fuck.com. I was one of the many sponsors, from Doxy, Kink Craft, Chaturbate, Godemiche and more see full line up here.
#2 – New mugs! What writer doesn't squeal with delight at a new mug? It has to be my second favourite type of receptacle and these from Fuck.com and Girl on The Net are perfect.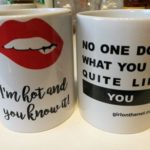 #3 – Renewed friendship bonds – from Friday night when I met up with Kayla Lords, Horny Geek Girl, F Dot Leonora, Coffee and Kink right through to spending the weekend at Exposing 40s house and saying our tearful goodbyes to Maria Merian on Monday morning and all the people in between… was amazing. I want to make a list! It will be a name drop fest – you'll be well jell 😉
#4 – 3 new sharpeners! So let me tell you – working in the 'adult' industries comes with many obstacle – one of many is trying to do things like open a business bank account, or getting insurance – folks are squeamish when it comes to 'scary sex folk stuff' and so I can't imagine what Molly, Michael and Girl on the Net went through to secure a venue for this event – let me tell you, not only was Arlington House a perfect size/ brightness/ location, the staff were incredible. Especially the manager Yusef who took great care to make sure we all had what we needed, even down to finding me 3 brand new sharpeners – posh Oxford ones too! I hosted a life drawing class and had brought brand new pencils with no sharpener – he went out of his way to find those. And he showed me round the artist studios and even came along to the Eroticon social evening.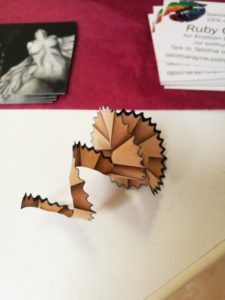 #5 – A new ceramic pleasures dildo – just gorgeous! And the artist/owner was my stall mate for the weekend and he is simply lovely.
#6 – Books! And who could imagine coming away from a sex writers conference without a book or two – sadly/excitingly, the Eroticon anthology, Identity had sold out but I did get my grubby mitts on Janine Ashebless's new book and Girl on The Net's How a Bad Girl Fell in Love. Signed too! Thanks to Ms Victoria Bliss from Smut UK who ran the book stand.
#7 – Not a brand. This is a significant moment that I will talk about properly one day – but I was excited as a rambunctious puppy at Mr Gryphon's branding workshop and eagerly put my name down for one of the temporary markings, designing it and everything – it was a wonderful class but I had a wobbler half way through and couldn't go through with it! I wrote a scar story here.
#8 – A really good building up of my alcohol tolerance 😀 usually, I get plastered with the Brit Babes by 3pm at Eroticon but this year I was very good – however, there was after show drinks every night – especially the Saturday night – where we only got to go and see the fucking incredible Rubyyy Jones! My god, what a performer – I am in LOVE!
#9 – Business connections. Eroticon is absolutely amazing for meeting up with people you've chatted to online and new people you've only just met there. It opens up so many interesting avenues and food for thought. Like, how do I tackle disability in my work – or inequality, or sexism, so many things to think about and so many people to ask opinions. Surprising and exciting things happen during, and after this event, eg – we got a mention in the Metro from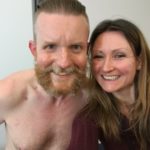 Violet Fenn!
#10 – and my absolute favourite – I got ART DAHLING! Ooodles and swathes of gorgeous sexy art! John Benge and I ran a workshop on Saturday afternoon – all on the theme of Identity. John was gracious enough to introduce us to the imitable Johanathan D'Ville and we set up four poses, taking our artists through a progressions of M
r D'Ville's character and hidden identity.
It was filthy, messy and we sure as hell left our mark on the tables, but I love this workshop! John is a physical genius and you should work with him if you get the chance!
There is tonnes more to go through – like, I came away with an idea for a dark romance, business connections, favourite new restaurants, recipe for peanut porridge, now twitter followers and followees, new blogs to follow, new treats and stories to read, renewed enthusiasm, a deeper love and familiarity of London, a sense of confidence, the ability to achieve, how like-minded people can really change things for the better, how being open about sex, sexuality and quirks of your nature can cut through all this and get to the person, that people are willing to travel a long way for this sense of community – people were there from New Zealand, Australia, Holland, Spain, Canada, the US and more! Also – I can't wait to tell you about my adventures at Shh Womenstore and the exciting new delights I bought… 2 words: Tenga. Egg.
Huge love to Molly, Michael and GOTN for taking it on – Ruby Kiddell who started Eroticon must be proud indeed!
X x x x more to follow once my brain stops hurting… Ooo thanks also to Written by Jenny who started this 10 things about Eroticon Meme – she's super lovely BTW