If you're new to my blog – this is an erotic story about enemas – if you're looking for information on being an enema addict instead, here's a link to the article that inspired this story – if you are interested in the sexy side of enemas, by all means, read on…
Enema Addict – can enemas be sexy? A story about the erotic side
Listen as audio
Listen to the audio above or head on over to Girl on the Net's fantastic Audio Porn project.
Charlotte was no stranger to a douche, but that was usually in preparation for some anal mischief.
She pulled her cheek between her teeth and flicked open the four-hundredth tab on her phone browser to the article that had caught her eye the day before—the health benefits of having enema. The thought of simply filling herself with water as a pursuit just for her, not making herself clean for anyone else, sent a frisson of excitement through her body.
She remembered the full feeling it gave just before expulsion and wondered if she held the water in for a bit longer, would it be sexy?
In that moment, it was all she could think about. The article spoke of coffee enemas so she poured what was left in the cafetiere into the douche bulb and topped it up with water.
She lay on the large shower floor and administered the liquid, letting the unique sensation of being liquefied pull her into a different zone. The urge to expel it straight away threatened to bring the fun to an abrupt halt so she reached for her new aluminium butt plug and soaped it up, easing it to the whorl at her entrance. It felt so darkly naughty to be doing this to herself, but oh so right. She pressed harder than she usually would have, gritting her teeth and taking the stretch, not wanting to spill any liquid. As the plug neared its maximum girth, she took a deep breath and paused to give it a slight twist—all the nerve endings pulsed and there it was, the flood in her pussy that something exciting was going on very close by. She gave one last push and her ass swallowed up the shiny metal snugly.
So far, so good. Everything seemed to be in place and her clit had now woken up to the activity. Charlotte carefully stood up checking and clenching, feeling that delicious watery fullness. It was quite a different sensation—a deep rumbling arousal, coming from within. She reached to her clit, opening up her labia and smearing her already copious juices around. She turned the shower from a trickle to full pelt and heat. This felt so deliciously bad.
She decided she might as well go the whole way and grabbed her Ambit, a G-spot dildo with suction base. She knew exactly the level to stick it on the shower tiles and did so, turning quickly to bend at the waist and pressed her pussy up against it. Reaching through her legs, she pulled her lips apart and guided the pointed tip to her hole. It was perfect. She shuddered with excitement at the thought of doubly penetrating herself and pushed. She was so turned on and ready, the dildo slid in and she stretched to accommodate both toys. Her shoulders were heaving with effort, breaths coming deep into her diaphragm magnified all the sensations as she started to pulse slowly on the silicon cock. The water surrounding the plug and sloshing deep inside her threw her into a different plane. She was cast adrift and on a sea of deep dark pleasure, absorbed and consumed, she flowed in around and through herself, eyes closed on a voyage of fuck.
And then, like the tide rising, just as she was about to reach for her clit, a grounding low internal orgasm started to grow. Charlotte kept up the rhythm on the dildo, loving the way it pushed at the plug as it moved, making the water ebb and swell within.
Holy fucking fuck, thought Charlotte as her whole body began to shudder around her pelvic organs. What the fuck… it was almost as if she was having a rigor—or a demonic possession—her cunt spasmed hard and Charlotte braced her arms on the opposite wall and slammed back hard onto the dildo, still shaking. Her orgasm came as if ripped from the fabric of the universe and overtook her very soul. Charlotte became aware of liquid pouring from her pussy in wave after wave of climax and realised that she'd been squirting. She'd never done that before.
This really was a watery liquefying happening.
Now, still braced, cunt and ass filled to the brim, arms taut, Charlotte exhaled. A giggle released from her throat and it sounded strange and muffled in the steamy shower, water cascading everywhere, she didn't know what liquid was hers. Slowly, she released her cunt and moved off the dildo watching behind her as it sprung back to its place with a satisfying pop.
She turned off the shower and reached for the towel.
Feeling a glow through every cell of her flesh, Charlotte wrapped herself up, hoping to keep it all in for as long as possible. There was one thing she couldn't though—she took her place over the toilet and made ready to remove the plug.
Yes, she was extremely glad she'd happened on that article. She wondered if it was possible to become an enema addict after only one session.
Whether it was the coffee or the monumental orgasm that set her up for the day, Charlotte wasn't sure but she was definitely going to keep up with this new morning routine.
It is the 400th Wicked Wednesday I dedicate this post to Marie Rebel, she's hosted this erotic writing meme for seven and a half years! That's a lot of smut! You can join in too – click the rainbow to find out more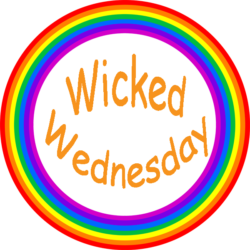 If you like smut with other bodily functions why not try The Weight of My Red Self – a story of period orgasms.
If you'd prefer something a little less visceral, here's I've Got This Fever with some audio to listen to.
Please take a look at my books to buy list and go take a look at my Ruby Glow vibrator site (there's usually discount codes dotted about on the blog over there). Treat yourself!
Thank you so much for stopping by x x