Doing it with Hannah Witton – listen to our chat on her fabulous show DoingIt
Learn all about how I got into writing sex words and ended up designing the Ruby Glow! And keep reading for my EuphOff entry NEWS!!!
Listen to Doing It! with Hannah Witton
I absolutely LOVED talking to Hannah – she's a bloody legend at highlighting sex positivity and normalising the human sexual experience.
We had a fantastic chat!
You can listen to it right now!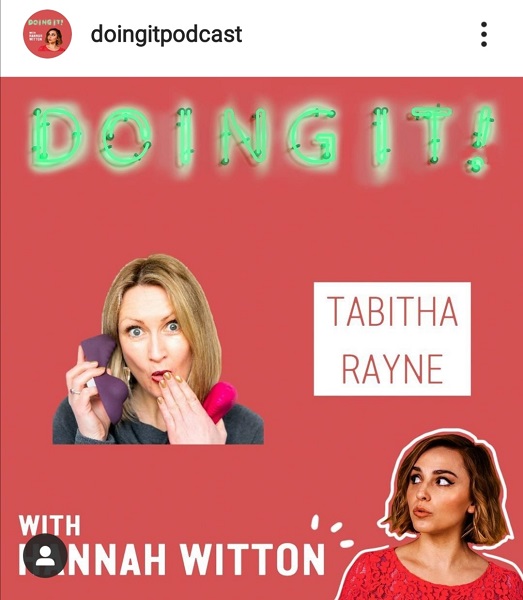 Hannah really put me at ease and we basically talked about my entire career, and I even talk about the Cock-O-meter that helps me decide if my stories are hot or not!
We chat about my new toy, Ruby Glow Blush which is out in July!
Please take a listen, we have a special code – DOINGIT for £5 off at checkout over at Ruby Glow.
The Other thing we discussed was the power and depth of erotica as a genre which is one of my favourite things.
I've put the sexy book, Drenched, we talk about on the DoingIt podcast on Kindle Unlimited so if you are a member you can read for FREE! Otherwise the Kindle is £2.31 – or you can buy a PDF for £1.99 over at my Ruby Glow site.

Explore my site for some lovely free soulful erotica – like I've Got This Fever – and the filth Hannah mentioned – Spray – lesbian Bukkake story read out as part of Girl on the Net's audio porn project 😉
Here's some links to the other sites we discussed – Sh Womenstore – a fabulous sex shop in London Use code RECOMMENDED for 15% off everything in store! FrolicMe – ethical porn site by Anna Richards with great deals! #PayForYourPorn. Rocks Off the wonderful sex toy company that took on the Ruby Glow design, Erotic Trade Only show, I'll add more if I've missed any!
Now, Brace Yourself…
In the Doing It podcast, we chatted about the EuphOff – a ridiculous bawdy writing competition – so after you've listened to the podcast and downloaded my book, come back and read this absolute gem, I've written for this year's EuphOff hosted by the gorgeous Livvy!
*BLOG UPDATE*
I BLOODY WON THE EUPHOFF!
I can only apologise for this but since I mention it in the chat with Hannah, and the deadline is very soon, it's only fair to share the joys…
Read at your own risk 😀
The special phrase we had to include is Man Dragon
Back to the North
You know that show everyone loved about Zombie Cock and his mates trying to keep dead folk the other side of that wall 'n' that. Well, do you remember the dragons and that chick with white hair flying around burning shit? Degenerates I think she was called. That show, well, I have a dream sometimes that I'm her riding on that dragon, thinking, ooo she must get some chaffing from all them jaggy scales.
I did like the bit when she was shagging that big wild brute – I bet his man dragon was right spiky and all. I wouldn't mind giving that one a go I'm telling you.
Sometimes I imagine I'm riding on that big dragon with the brute behind me pressing his horned barb into my back and arse, while I rub my queen scallop over the bony ridges. We fly higher, dipping and diving, and oh what's this, his pointed middle claw thrusts forth from its sheath to spear me right up my queenly scabbard, rough and brutish like a brute. He stretches my quivering, weeping lady duct, and oh, there is a furnace burning as hot as the breath of the dragon we are taking our pleasure upon.
But wait, another dragon comes, and who is upon it? Bloody Zombie Cock, I swore I would not entertain his advances. Something makes me feel it's all wrong, not just because of him having an actual zombie cock, but something else. And yet, the way my brute grips me harder and ploughs my oily furrow, I sense some rivalry and lo my lower drawbridge ratchets open and I have a flash of being taken front hole and rear by these two fiends. Their man dragons piercing my delicate femininity as only a queen could be. I feel a swoon rising and my bosom heaves as Zombie Cock atop his dragon leaps through the air and lands before me. I am the trembling lady meat in this man sandwich. And still the clouds pass and dip and his spear is embedded in my wound tight and fast. The dead beast before me, leans in and my loins are liquid lava, a desperate flowing invitation for both writhing tentacles to explore.
The dragon roars and emits a plume of flames into the night sky as the dark-haired man with decomposition running through his veins breathes hard through his pouting mouth and declares,
"I am your density!"
He leans in pressing his cold blue lips to mine.
I expect a spark and ignition, a bellow to fan the lusty flames further but instead, he pulls away with a look of horror.
The brutish rogue behind me keeps on juddering his beef into me, deeper harder and bites down on my neck reaching round to grab at my own dragon heart, and I spew forth from the caves of my apex a fountain of pleasure soup.
"When I kiss you…" Zombie Cock declares, "It's like I'm kissing my brother…"
You're WELCOME!
Bonus points to those who identify the film/show mash up!
If you read this far before listening to Hannah's podcast, wow. Please do go listen to it, I am normal I promise 😀
Happy isolating! Remember – I've got some fab books including an apocalyptic erotic trilogy if you are into it! Thank you for stopping by for a glimpse into my world.
Love you, stay safe x x x