Clitoral Orgasms and a Dildo Muse
Well, it's the final day of 30 Days Orgasm Fun – I've been having a lovely time but been unable to post much about it – due to all sorts of reasons: busy, smashed my phone, wanting to hide away – I think the hiding away part is the most accurate. I've taken social distancing to new levels including social media distancing! And for that, I'm sorry. I've updated when I can. I hope some of you who had a go had fun with yourselves, that, at the end of it all is what it's about.
I've enjoyed at least 25 orgasms and it has definitely boosted my mood – from clitoral orgasms to… well, more clitoral orgasms to be fair, but still, damn good ones!
I wrote a bit of fiction to celebrate the final day and my love of clitoral orgasms featuring a long lusted for Dildo from Dearest Fanny Darling. This isn't a sponsored post, I just love them.
Giving my Clit the Ride of its Life with a Pin-Up Dildo as my Muse!
I collect dildos. Which might seem strange considering I don't use them, but there's something wonderful about the day I gave myself permission to be ok with that.
I collect them as objects d'art and my most recent is a beautifully decorated ceramic dildo from Dearest Fanny Darling. It's exquisite. Just look at the contours, the weight the girth. Look at the gorgeous vintage siren languishing and parading her lush sultry beauty all over it. It turns me on to own such a treasure. To know someone has lovingly wrapped their wet hands around it, pulling it from a spinning lump of earth, applying pressure and squeezing, the way a cunt might, to form the perfect shape. And then to be adorned so hedonistically with flashes of real gold leaf.
I adore just looking at it. Admiring it. It's on my nightstand and I tip my head to the side to see it as I snake my fingers down my body, taking in the contours of my breasts, belly and abdomen all the way to my knickers. I run my fingernails over the fabric so they lightly disturb the pubic hair beneath, sending tingles to the fleshy pad of my mons below. A flush rises over my décolleté, up my neck then my cheeks and I exhale out over my lips. I always feel a little shy of my own arousal at first. Only for a moment though. I let my fingertips take over and flatten them out slightly, rubbing now, pressing the springy hair flat against my mound. It feels good to press and hold all the flesh there, rubbing in long lingering circles, grasping my labia and pushing the bundle of flesh over my clitoris. I like to take it slow, feeling all the things between me and my pleasure. My fingertips to my knickers, to my pubic hair, to my pussy lips, then my clit nestled safely deep inside. I bend my knees up, squeezing my thighs together crushing them around my hands pinning them harder to my sex.
My head falls back into the pillow and I move a little lower, deeper to my vulva, gripping my pussy tight and encasing all my precious bits. I slowly buck my hips in rhythm with my movements, tipping my pelvis up, my fingers wrapped around my labia, massaging my clit, urethra and entrance. A low melty feeling takes over and my clit and nipples tingle in unison as I hit just the right spot. I stare as best as I can at my dildo pin-up girl and a gentle sweat breaks out over my shoulders, goosebumps rising at my nape. I can sense the tiny hairs rising. Nerve endings over all my flesh seem to come alive and tag team a relay baton of pleasure to all my erogenous zones—from that place you like to kiss behind my ear, all the way down to the apex of my thighs where my clit surges, pleasure rising, swelling, consuming me. Heat spreads from my sex all the way up my back and I twist and jerk quickly onto my front, grabbing my pillow and dragging it down frantically past my tummy and ramming it between my legs. I hump hard, building the rising pleasure, using the heel of my left hand to press the fingers of my right harder to my clit. Ugh, delicious pleasure is cascading through every pore and I keep riding myself harder, faster and more needy for release I keep humping.
All the while my dildo gal watches the action, did she just wink? I shudder, my body and mind suddenly suspended in stillness, and I inhale once, holding the breath high in my throat, hovering on the edge of existence itself. And then, and then…
I release, and crash my climax out over myself. In and around and through I come, I come down in into myself, up and out of myself, all the while twitching and holding on to my pussy tight, gripping the flesh and coming again and again.
It is sublime. I let myself fall a little then tweak my clit through my lips and knickers again, another wave of bliss takes me, and again, softer this time, I tease orgasms until my face is tense with effort and my eyes are clenched shut. My entire body is rigid with the effort of what feels like a hundred climaxes and I have to exhale into the mattress which is wet with the moisture of my breath.
And then, as I let my body unclench and unfurl and come back into itself, I pant hard, dragging in the oxygen I'd denied myself throughout. I never realise how wickedly I hold my breath when I do this.
I'm suddenly so hot and constricted I throw off the duvet and drag out the pillow flinging it across the room as I roll wildly onto my back, panting and laughing self-consciously.
Wow, that was something else. I look at my dildo art queen and wink back at her.
I really did just give my clit the ride of its life.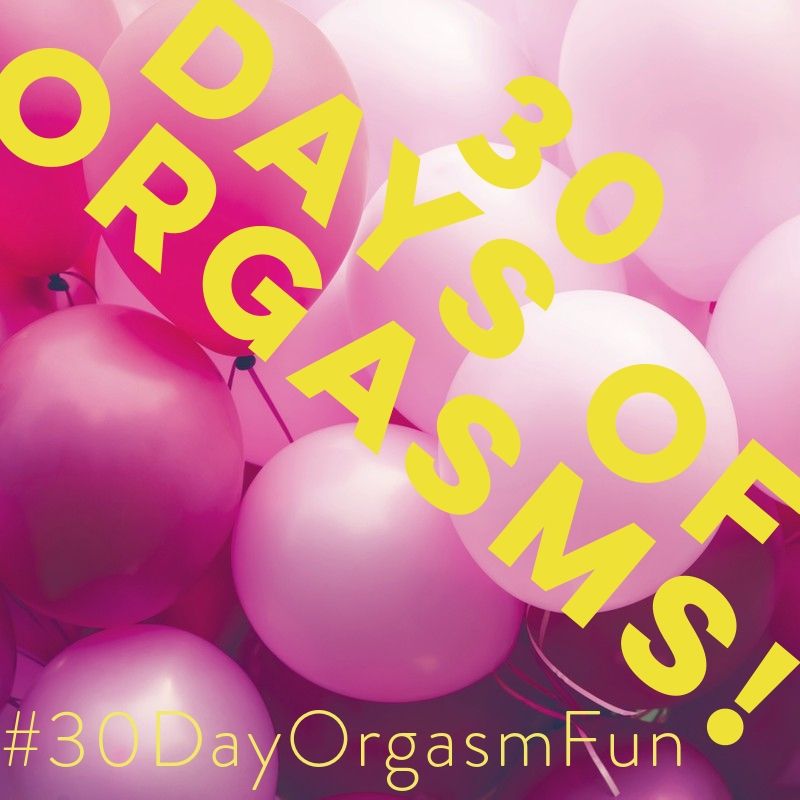 In other news:
Read my newest sexy story, Gold, inspired by a lockdown threesome over Zoom at FrolicMe.
Check out my events page for online meet ups including a Zoom Vaginismus event tonight!
Ruby Glows are BACK IN STOCK! Use my special code LOYAL15 for 15% off.
Thank you again, please check out the original 30 Days Post for some links to those who took part.
love ya – see you during Masturbation Month!
x x x
oh, please buy my book, Drenched, it's super sexy and only a coupla quid or free on KU and if funds are low email me [email protected] and I'll gift you a PDF copy x xx