Well I hope you all had a wonderful New Year! To bring in 2015 on my little blog, here's a Sunday Snog with an excerpt from my story The Dinner Guest in
Chemical [se]X
– it's a tale of lustful chocolatey menage – enjoy! x x x Remember to click on through the
Sunday Snog
links to get more Sunday hotness x x
Goosebumps raise on every part of my body as we climb the stairs. I opt
to go first and I can feel the heat of the gaze of both men as they eye up my
stockinged legs and higher to my ass. I can't help it – I sashay a little deeper into my hips and
arousal wells in the pit of my abdomen. My knickers are damp, I can smell them.
I ought to be embarrassed but I'm not at all. It's the strangest thing. The
smell is combined with a cocoa fragrance and as we reach our door I glance back
only to see Jasper feeding Luca one of the chocolates he was holding in the
taxi.
What the hell?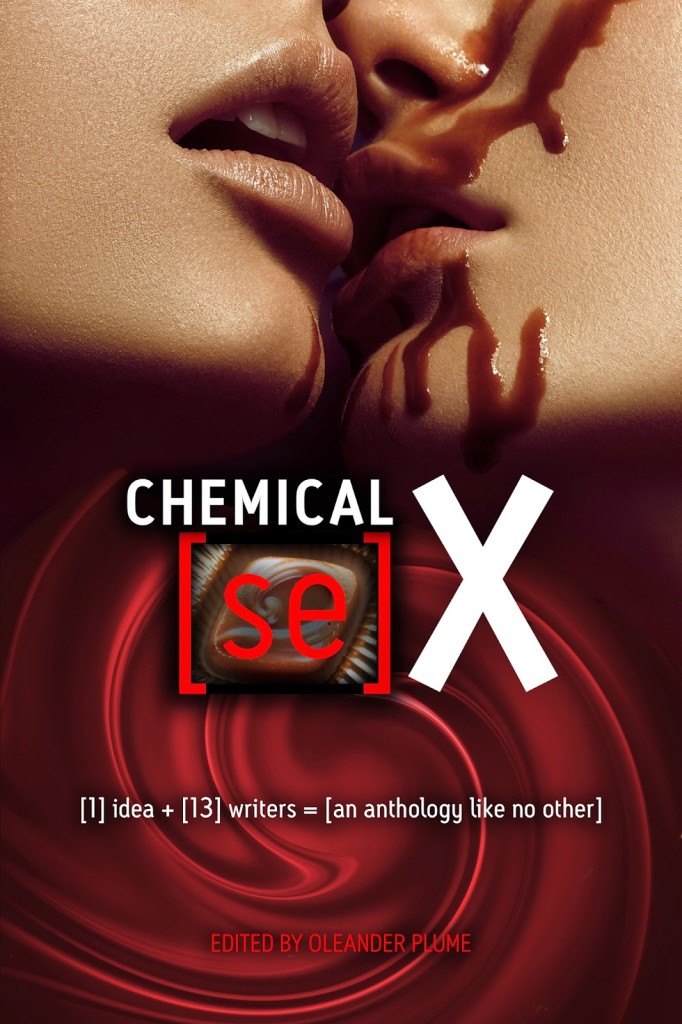 His lips engulf the melting candy and Jasper pushes his fingers in a
little. Their eyes meet and in that moment, I see a decision has been made.
Luca sucks greedily on the digits wrapping his tongue and lips around them,
swallowing them deep into his mouth. Both their expressions are heavy with lust
and my knees buckle. I fall against the door and it breaks them from their
spell.
"What's going on?" I ask with my breath alone, no sound escapes me. I am floaty and
excited, am I tripping?
Luca leans against the wall with a goofy sexed out look on his face and
Jasper strides to me, another chocolate in his grip.
"Here, eat it," he commands, grabbing my hair and pulling my head back, making no
mistake about my instruction. As he drops the chocolate into my open mouth he
slides his fingers on my tongue, fingering my mouth as if it were my pussy. It
is filthy rude and my cunt yearns. He rolls his pelvis into my side to show me
his hard on and I chance a glance at Luca who is rubbing his own erection
through his trousers.
As I swallow the sweet liquor of melted chocolate and saliva I feel
elevated beyond any need I've ever had.
"Unlock the fucking door, someone, now." I fumble about and the keys fall to the floor.
Jasper dips down and pauses on his knees, observing my spread feet. Like a
feral animal pouncing, he dips up and under my dress, clawing at my panties,
biting and tonguing my pussy through the fabric.
Luca comes over and I'm worried he'll be furious with me for allowing
another man into my private space but he just smiles and stoops to take the key
from Jasper' grip. He quickly opens the door and we stumble and fall inside,
grabbing at furniture, anything to catch our balance in this tangle of bodies.
I
am confused. Of course I know what's happening and it feels great but I'm not
quite sure how it's happening. We
never discussed this, Luca has never once hinted that he would consider a
threesome… Threesome, forming the word in my mind sends spirals of illicit naughty
desire racing through me. Menage-a-trois. How deliciously sordid. My breasts
feel engorged and the beaded nipples are almost painful. I need to get out of
my dress right now. I'm so hot and confined. I tear at the fabric and am
delighted when four more hands join the crusade to get me naked…
And there you have it! If you need to read on, you can grab a copy of Chemical [se]X here… I've read the other stories and I'm a-tellin you – this is one hawt book! 😀
Remember the other snoggers for more kissy kissy action x x x