Masturbation Month! NSFW!
I'm so excited! Masturbation Monday is taking part in May's Masturbation Month! Loads going on with prizes galore every week for readers and even prizes for writers taking part – one of which is my Ruby Glow sex toy from Rocks Off!
Here's my post – I've pushed things a little bit here but it's all Kayla's fault – getting us all worked up with this gif!
Milk
It happened last night. I was a little drunk and we were sprawled on the sofa, his cock in my hand while I lay over him, legs spread wide while he cupped my mound and splayed me open, rubbing hard. He snarled in my ear about how he wants to feel me pour my juices onto his fingers while I tell him my deepest desires.
This is what we do – I sit like this over him and we talk filth to each other. Our fantasies, our desires. We've never acted any out yet but it gets us so hot to talk about it. I remember once how shocked I was when he said he wanted to see me take a cock in my ass and one in my pussy at the same time while he watched from the other side of the room. 'Would you like that?' he asked and I blushed as my pussy answered for me. We've been through most scenarios – another guy, another girl, threesomes, foursomes, orgies, cuckolding… whatever makes us buck and strain against each other.
This though, this might be strange. I've had this fleeting desire for a while now. I'm not even sure if it's 'a thing'. I'm don't think I'm bi or even really fancied girls in the past but there's this one thing that has me chewing my cheeks with want. I want a woman to be lying across my man the way I am now. She's larger than me, juicy flesh and bouncing breasts – the kind that flop to the side and wobble contentedly as if softly laughing at something sexy. I would roll up to her on my knees and gather the full fleshy bundle of her breasts and squish them into my face, rubbing their abundant softness all over as I suck and chew and devour them. I'd tease myself, and her. I wouldn't touch her nipples until they were distended and peaking and she demanded it with her groans of frustration. Then, I'd take one between my lips and slurp it back with my tongue into my throat and suckle hard. She'd grip my hair and tell me how fucking good it felt while my man fingered her ferociously. Then I'd release her breast only to taste a sweetness and I'd see there was milk on the tip of her nipple. The gush and flow of my pussy would run down my leg as I gobbled her back up, suckling and drinking the sweet thick trickle over my tongue and throat. I'm crazy with desire and he's asking what the hell I'm thinking about but I'm not sure I can tell him. I lift my face off her just as she starts jerking and coming under his expert touch but I've released a flow and she sprays her milk all over my face and onto my tits. I rub it all over my chest and clamber up onto his cock and sink down onto it hard and grinding as he licks the milk off my tits and face.
It takes a few strokes and I'm convulsing over them both in a milk spattered heap of satisfaction.
Woo-hoo! Take that Masturbation Month 😀 Love you!!!!
Click the big purple box for more posts and prizes and writers you can check out the Ruby Glow  here to see if you fancy a bounce around 😉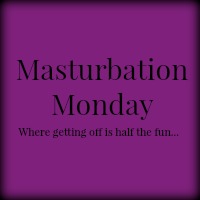 AND! Please do read my Beauty Of A Woman blog fest post – Never Curb Your Enthusiasm – there's so much going on! More prizes and sex positive joy too x