Treat yourself to some erotica today
Was she ready for these Highland Games?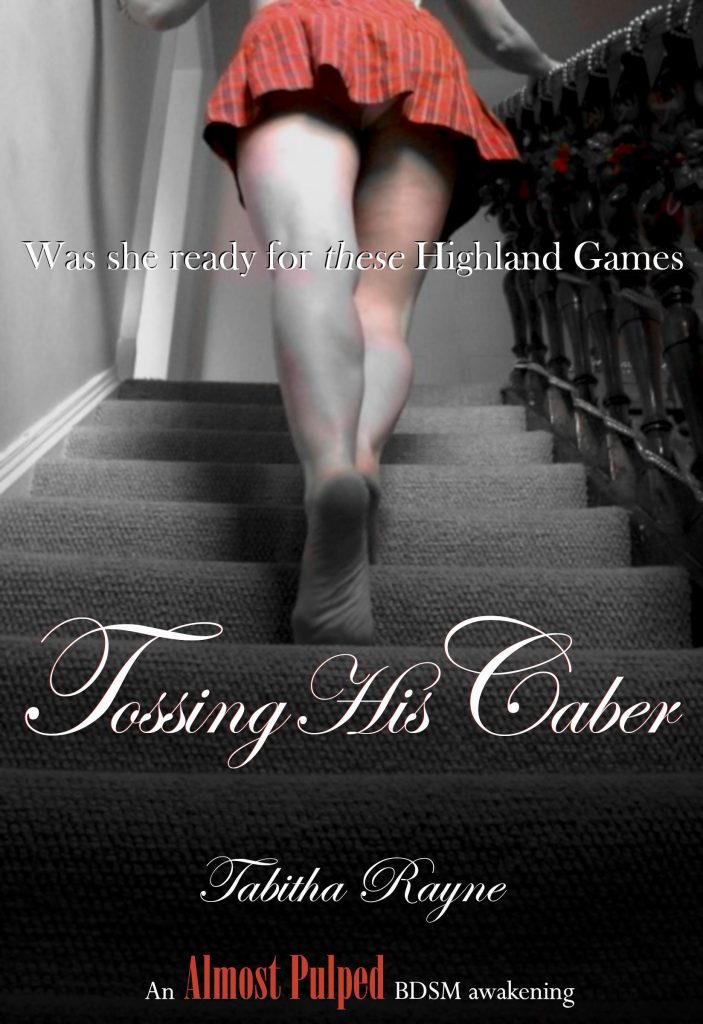 A Sexy Highland Romp with spankings-a-plenty – BUY NOW!
Dissatisfied at work and looking for escape, Journalist Harriet Taylor is only too glad to take an assignment as far away as possible from her London Office.
Heading to Braemar to investigate allegations of drug use at the Highland Games, Harriet is forced into a new way of reporting. Games' champion and subject of her article, Archie MacDonald is a brusque and evasive highlander and Harriet finds herself hot and bothered in more ways than one.
Harriet uncovers much more than she was expecting about Archie's past and his taste for domination. Will she keep her professionalism or will Archie unleash a new feral side to this prim London reporter?
An Almost Pulped BDSM awakening novella
It's live! Apocalyptic horny shenanigans
What would you do if you were told you held the key to humanity's survival?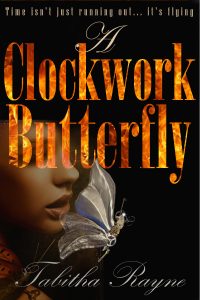 'A Sexy Handmaid's Tale'
'Batshit Crazy'
'Eroticism at its finest'

Birthrates are in decline… only one woman can save mankind.
Will she bother? Or will she take everyone down in a blaze of orgasmic glory…?
Only ONE way to find out… read this explosive trilogy now!

Lena Lee is a new collector with a rare pheromone believed to reignite human fertility.
She's assigned a male who's predicted to be her perfect match.
Angelo, a clockwork butterfly maker, is held captive, his essence harvested daily by Lena. Over time, the couple begins to fall in love, something which is strictly prohibited. When their forbidden love is discovered, Lena is banished from the manor.
Torn apart by the duty that brought them together, Lena and Angelo must find a way back to each other. But even if Angelo manages to escape, he doesn't know where to find Lena. Will following the path of the clockwork butterfly lead him to his true love?
Taking Flight – Book 2 and the prequel to A Clockwork Butterfly (read in any order)
Content Warning: This book contains apocalyptic peril and graphic sexual content, including m/f and f/f sexual interaction, along with BSDM
Buy now! Or read for FREE on Kindle Unlimited
Lovers on the run in search of a bond that transcends all else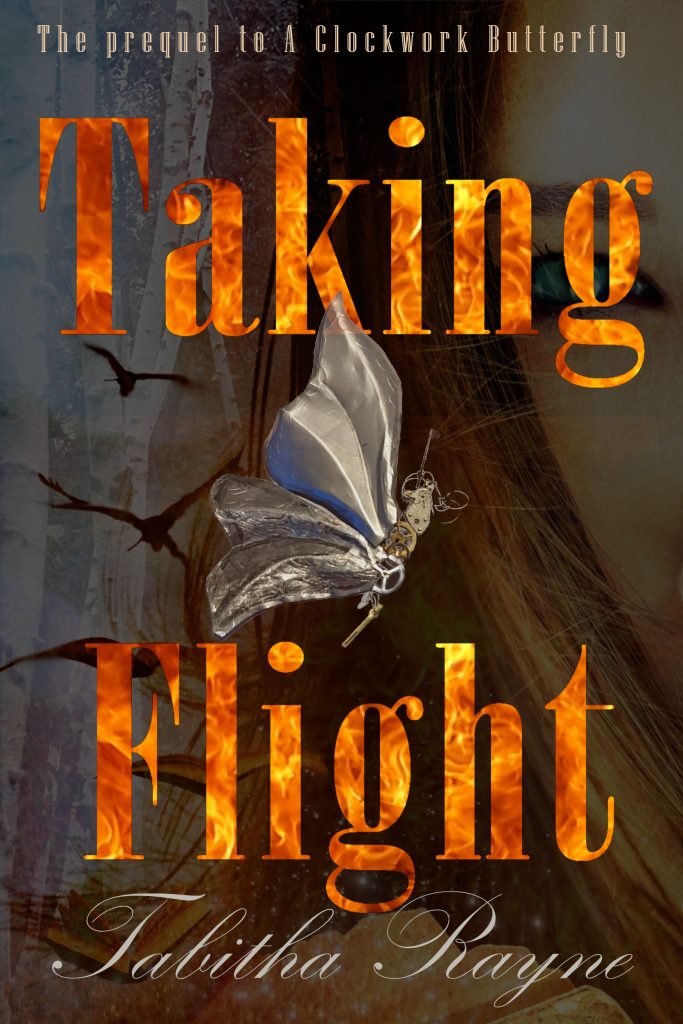 Dr. Deborah Regan is a scientist working on a cure to the poison that's killing the male population and destroying the natural world. But when she makes a breakthrough in her research, it becomes clear that the authorities have no intention of finding a cure, and now that she's getting closer to an answer, she's a threat to them—a threat they need to deal with quickly.
Deborah and her partner, Marcus, flee to the forest where they meet another couple on the run. Birch and Hazel show them how to survive in the wild and teach them the theory of ultimate unity. They believe that by finding sexual nirvana at the point of intense orgasm, they will break through the barriers of physicality and become one.
Deborah develops an aptitude for falling into this trance-like state and manages to bring Marcus on her journey. Their spirits can indeed join together at the meeting point, suspended in time and space while they climax.
When Birch and Hazel become jealous of the young couple's ease at reaching ultimate unity—they betray Deborah and Marcus to the authorities. They are separated.
Will this metaphysical union be enough for a couple so deeply in love? READ NOW


The Meeting Point – The explosive climax of The Clockwork Butterfly Trilogy
Content Warning: This book contains apocalyptic peril and graphic sexual content, group sex, BSDM and end of the world shenanigans
Buy now! Or read for FREE on Kindle Unlimited
A story of love, freedom, and the future of humankind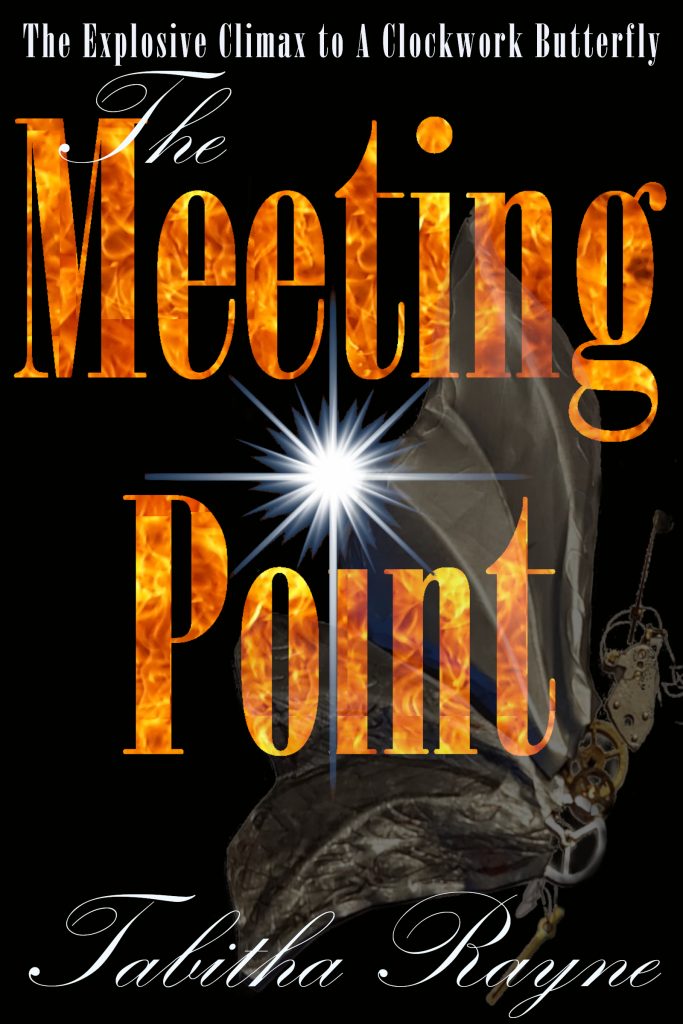 "Eroticism at its finest"

Deborah Regan has broken free from the prison where she's been unjustly held for the past eight years. The scale of the devastation to the land outside is overwhelming. Toxins have taken hold, and the planet is dying. Deborah vows to find her lover Marcus and flee to the safety of the hills where their story first began.

Marcus is one of the few remaining men left on earth, and Deborah finds him held captive at a pleasure farm where he is kept to service rich and powerful women. Escape for him is complex and dangerous. They can only hope that the trio who helped Deborah before will come to their aid. Marcus has heard from his clients over the years of a mythical place with its own microclimate that toxin clouds seem to miss. He is sure they can find it and will be able to build a future together.

Mae, Lena, and Angelo feel compelled to find Deborah and Marcus who they know have a special connection that might prove essential to their survival. They make haste to track the couple and realize the plan they have chosen is fraught with danger and conflict.

Will they make it to the utopia Marcus dreams of?
Drenched – a collection of hot stories by Tabitha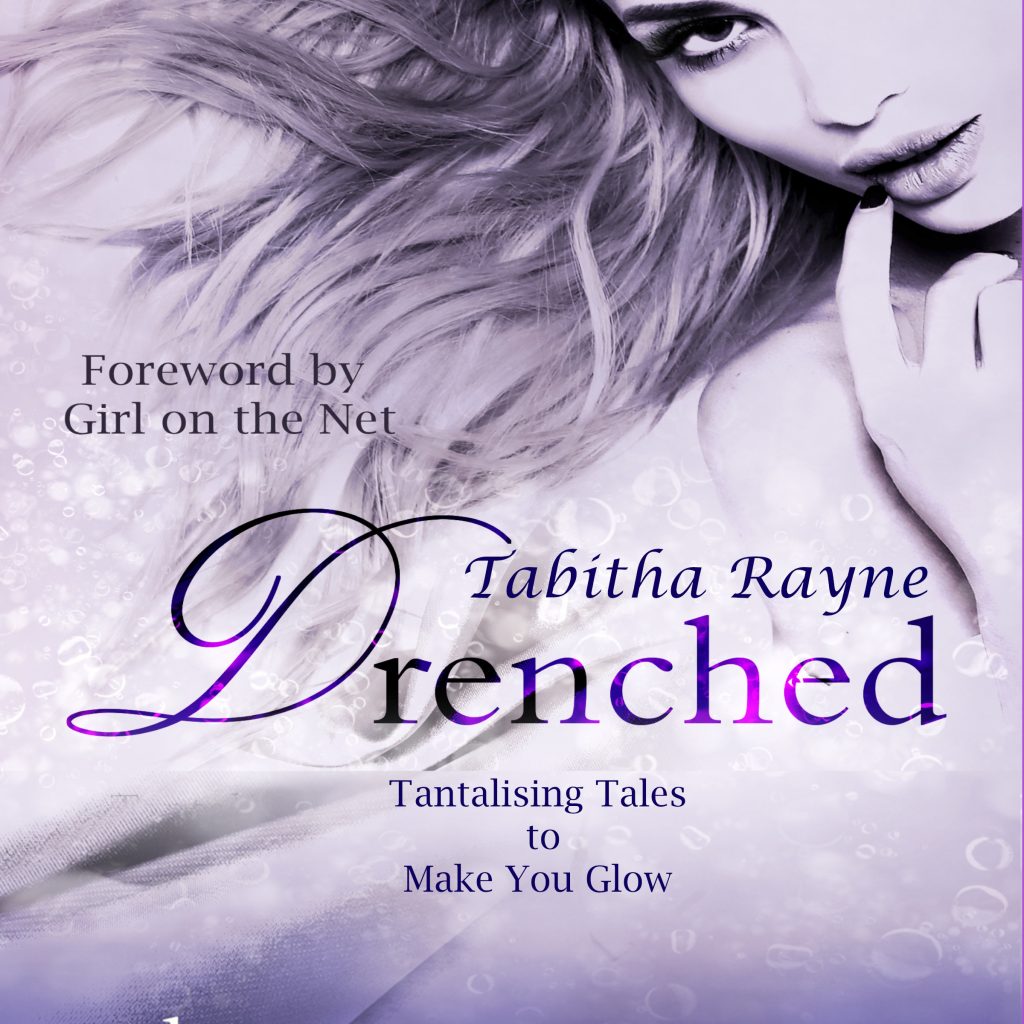 A tantalising collection of tales to tease and turn you on…
With foreword from Girl On The Net. "Tabitha's work is a masterpiece of desire and lust – finding the intense hotness in a huge variety of characters and situations. I don't know whether to read this book or **** it. Might do both."
With over ten years of writing hot erotica, Tabitha presents this collection, from desperately fraught flash fiction to longer languid love stories, you're sure to find something to suit your mood and lift your libido.
Get Drenched! out NOW! PRINT EBOOK AUDIO BOOK
The Baker's Wife: she just needed him to knead her – a BDSM awakening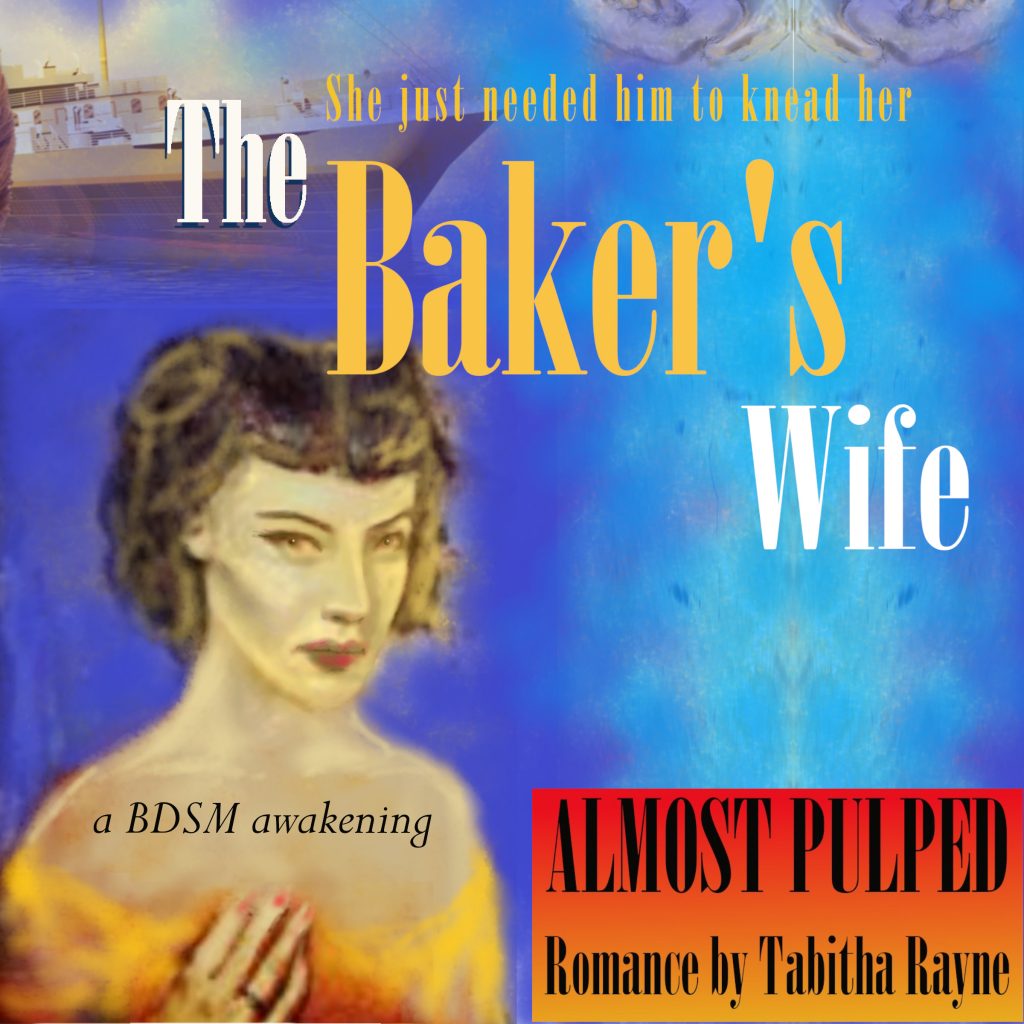 Elizabeth McCoy is cold to the core.
She fears she may drain the life from her warm baker husband who lives only to please her.
There is just something missing—something she's yearning for deep in her soul… she just doesn't know what.
Maybe a fresh start aboard the Corinthian to Canada will bring a much-needed thaw. A chance encounter with a gruff sailor stirs Elizabeth's passion and she realises how much she's been craving her husband's hands upon her.
Can she convince her gentle giant to knead her in the way he kneads his dough?
Adult romance and a BDSM awakening. AUDIO EBOOK PRINT
The Device, The Devil and Me: when demonic possession is the only thing that makes sense
"This book is simply exquisite, there are no other words for it."
I wrote this before I knew I had ADHD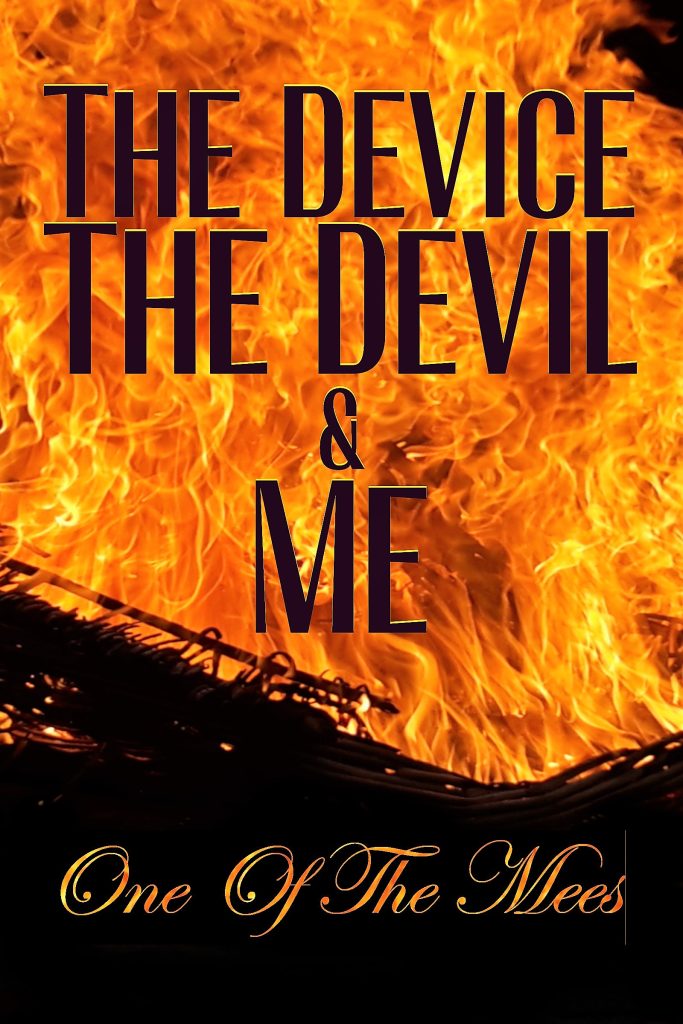 I have a secret.

I am mad.

Not crazy or bonkers or daft. Just mad. You wouldn't know it to look at me or talk to me or even be in a loving long-term relationship with me, but I can assure you, I have the darkness…
Witness Lauren Swan's descent into mental health chaos and demonic possession.
Keeping a secret of her pain and self-harming is taking its toll on Lauren. She finally feels like she might be brave enough to confide in her mother, who reveals a devastating secret of her own. Pushing her own problems deep back inside, Lauren braces herself for battle… BUY NOW!
"I was overwhelmed by this book. It's raw, and honest and gut wrenching. And at the same time, it's funny, full of pathos and so cleverly, bravely, exquisitely written. The style is so fresh, so seamless, I can't image the work that went into turning this so personal story into such a perfect work of fiction, of entertainment. Little snatches of life, little moments crafted out of pain and experience and truth into something cinematic, gripping." Jo – Reader review
BUY The Device, The Devil and Me now
"This book is simply exquisite, there are no other words for it. Beautifully, carefully, seamlessly written in a unique style it made me laugh and cry and pulled out a hundred emotions in-between. If you enjoy a book that's real and raw and honest then try this, it's a brave subject matter, the plot is character led and it's one of those stories that will stay with me for years to come. [The author] has certainly used words to their maximum effect." Reader review

"An accomplished and impeccably penned narrative. One of the Mees is a brilliant tour-guide through difficult and challenging human territory. By the time you have read this novel you will emerge more human than you were when you went in. And this is the litmus test of all literature." Christopher Rush
Obeying Her Vikings Audiobook by Lily Harlem – narrated by me (Tabitha)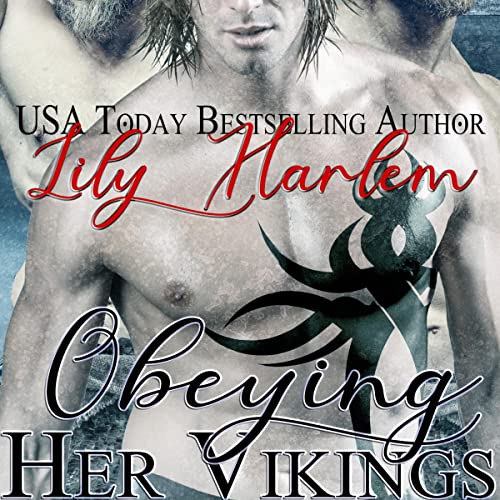 After Viking warrior Wade Gudlaug's hunting expedition is delayed so long that his bride-to-be presumes him dead, he returns home to find that another man has begun courting her. The first instinct of both men is to fight to the death over the woman they love, but when she begs to be spared the pain of losing one of them it is decided instead that she will be their shared bride.
Though Iona soon finds herself with her cheeks blushing and her well-spanked bottom burning, when her new husbands claim her together she is left sore, spent, and satisfied. But when a third man seeks to marry her as well, will she be able to handle the appetites of so many Vikings?
Buy the AUDIOBOOK now!
Read more on my blog
The erotic author and goddess, Lily Harlem, and I have teamed up to bring you the audio version of The Viking's Captive.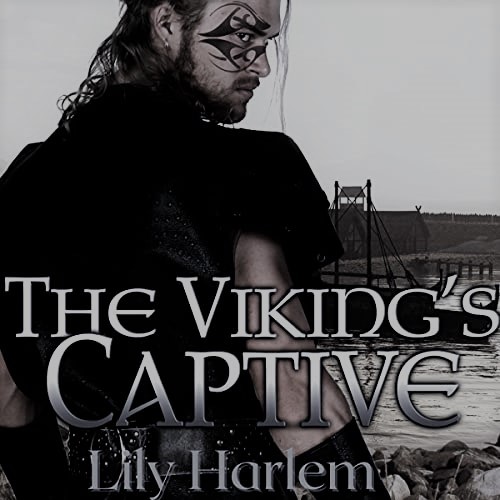 After her village is raided by Vikings and she is carried off and taken as a slave by one of the marauding Norseman, 21-year-old Duna learns the hard way that her best attempts at defiance will merely earn her a painful, humiliating spanking. More shameful still is the inspection of her naked, helplessly aroused body which follows the strict chastisement.
Though he does not hesitate to punish his new slave when her behavior warrants it, Halvor cannot deny the effect Duna's innocence and beauty have on him, and before long, he has decided to make her his wife and claim her virgin body properly. But when a man from her village tracks her down, will Duna choose to stay by Halvor's side?
Buy the AUDIOBOOK now!
Read more on my blog

Read my story The Artist for FREE in COSMO!
Buy the Trilogy
The Clockwork Butterfly Trilogy – dystopian erotic fantasy with an ending like no other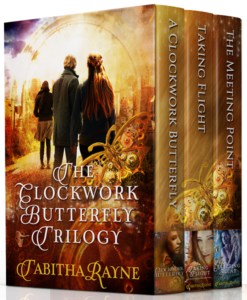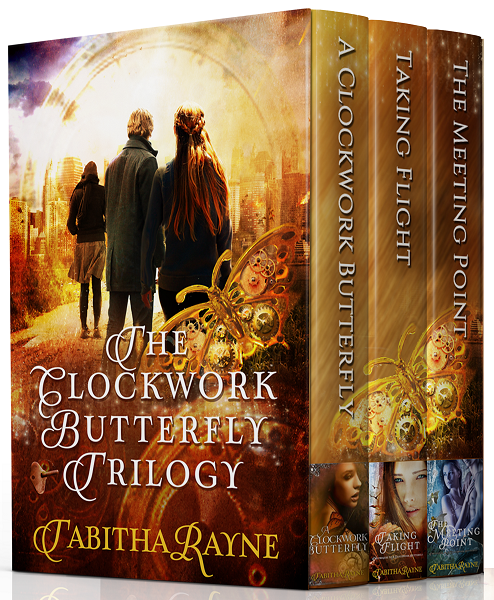 Figs
Sex and the Stranger
Mia's Books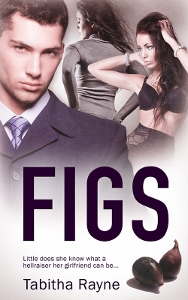 Short stories and Anthologies
Read my short story The Artist for FREE in Cosmopolitan
Various – Sexy Just Walked into Town – the Brit Babes – free!
Various – Sexy Just Got Rich – the Brit Babes
The Dinner Guest – Chemical [Se]X
Enter Me – Best Women's Erotica Volume 1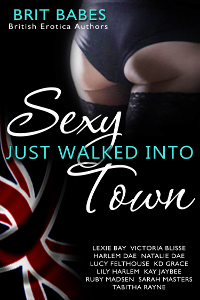 And More Short stories and anthologies!
The Scribe – Sudden Sex – 69 Sultry Stories
The Conference – South Bank Seduction
The One – Blog
Una's Retreat – Smut By The Sea vol 1
The Conjurer – Smut In The City
Sea View – A Short Cambodian Affair
The Sculptor – Under The Desert Sky
Retail Seduction – Kinky Girls and The Strap On and Cocktales 1
I am Matilda Jenks – Party Favour
I Am The Moon – Bite
The Gentleman – Backsage Rider and Cougars & Jackals
The Billiard Room – Forever Bound
The Call of The Night – The Call of The Night, Sexy Paranormal and Dead Sexy
Roses and Figs – Wanton Women and Waiting for Isabell
Francesca's Mother – My blog!
The Relapse – Explicit Sexy Stories
Salon Style – My First Threesome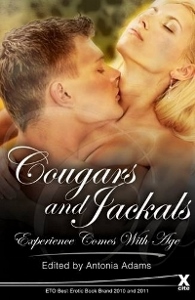 Here are some useful links if you'd like to see what I'm up to around the web:
My Website TabithaRayne.com
Twitter @tabithaerotica
Facebook
Amazon Author Page provides an up to date book list
Goodreads