The Baker's Wife: She just needed him to knead her – a BDSM awakening!
Well hello hello!
Welcome and I wish you all wonderful things for 2022! Including lots of sexy romance 😀
I'm starting this year with re-releases of around six books including novels and novellas – the first is The Baker's Wife – which is a tender BDSM awakening set on an ocean liner in the 1950s. I've chosen to include all of these books in a series I'm calling Almost Pulped – due to the fact that they have all been removed from sale because publishers have sadly had to close their doors or removed my titles from their list. This happened in December so I've been frantically trying to edit, get covers and record audio so you can hopefully not have too long a wait for my back catalogue. Obviously this limits the amount of new work I can produce but I'd rather get these back out into the world as I'm still very proud of these stories and as with every writer, want them to be read.
This one, The Baker's Wife is one of my favourite stories I have written. The cover and tag line are a bit of a piss take but I wanted them to be eyecatching and I read that the Pulp Romance covers of the 1950s were very much the clickbait of their day! However, don't be misled – this book contains does exactly what it says on the tin! I'm no tease 😀 Read about the first edition, Her Stern Gentleman, here just in case you've already bought it!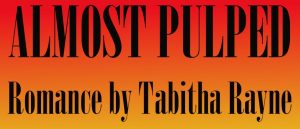 When I wrote it the working title was The Baker's Wife so I've reverted back to that as it suits the story much better. I know being defined as someone's wife is not cool these days at all and it does make me uncomfortable but it is about the main character's struggles with her sexuality and how it relates to her husband. Their marriage is a big part of the plot so it works on those terms and it is a historical romance set in the 50s.
Official Blurb:
The Baker's Wife: she just needed him to knead her – a BDSM awakening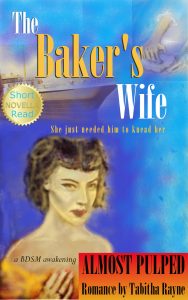 Elizabeth McCoy is cold to the core.
She fears she may drain the life from her warm baker husband who lives only to please her.
There is just something missing—something she's yearning for deep in her soul… she just doesn't know what.
Maybe a fresh start aboard the Corinthian to Canada will bring a much-needed thaw. A chance encounter with a gruff sailor stirs Elizabeth's passion and she realises how much she's been craving her husband's hands upon her.
Can she convince her gentle giant to knead her in the way he kneads his dough?
Adult romance and a BDSM awakening.
Audio and text excerpt
Lizzie is furious with herself once again. Why does she have to be so hard on him all the time? She knows he tries his best. Maybe that's what annoys her the most. His constant care. She knows her behaviour must confuse him—god, she confuses herself.
She is still in her breakfast clothes as she wanders around the deck, finding herself standing at the very spot she shared a cigarette with the sailor last night. Placing her hand delicately onto the wooden banister, she lets it take her weight as she sags her waist into it, tipping slightly over to look at the ship's hull churning through the water below.
She should be feeling excited. But she is beginning to realise that her cold melancholy seems to tag along no matter where she's headed. Blood strains into her face and she finds she is on her very tippy toes leaning out quite far, her hair flapping and streaming into her face. Suddenly exhilarated, she lifts her toes and the side of the mighty ship takes her weight. Balancing carefully just at the tipping point, she imagines decadently plunging to her death in the frothing depths below. It is a seductive image and she leans just a little further and her hand slips. Just enough to make her breath catch and adrenaline course, but it feels good to have her heart beating this fast. Coming back to reality, she pushes her body up, but she doesn't quite have the strength in her arms to right herself. Her first instinct is to giggle, so she does. The pressure of laughing and having her full weight pressing into her bladder makes her pee herself, just the tiniest bit, and she is embarrassed when a gust of ocean breeze lifts her skirt, cooling the moisture gathering in her gusset.
The strain is now making her wobble and she knows she should cry for help, but she is just too embarrassed by her predicament. A shadow crosses her and a deep familiar voice startles her, compounding her mortification.
"What have we got here then?"
The sailor.
Lizzie hopes beyond all hope that her petticoat is still hiding enough of her modesty as she can feel her skirts gathered up over her behind.
"Hello," she manages meekly, knowing her cheeks are bright red and so she keeps her head turned away.
"Is there something I can help you with, madam?" He is smiling, mocking her; she can hear it in his tone.
"Well, yes." She decides not to send him away. "I'm stuck."
"I can see that," he says and again she can hear in his voice that he is looking up and down her stuck frame, paying particular attention to her behind, she imagines.
There is a long pause and Lizzie begins to feel exasperated at his ungentlemanly behaviour.
"Are you going to help me or not?"
"Well, I might," he says, moving closer to her until they are almost touching. "But I am certainly enjoying the sight."
Lizzie is angry now.
"If you were any sort of gentleman you would have discreetly pulled me up and helped me back to my husband by now."
"Oh, but I'm no gentleman," he whispers, leaning over so she can just hear him above the waves. "And I told you last night what I thought of your husband letting you out of his sight now, didn't I?"
Well I don't know about you, but I love a BDSM awakening story, don't you! I hope you'll find it very loving and tender despite the raunchy shenanigans the characters get up to 🙂 I'll post the audio links as soon as they go live!
For more spanky, raunchy audio tales why not try, Obeying Her Vikings which I had the best fun ever narrating for Lily Harlem. And for more of my own – some free, some paid, take a look on my audio page.
Lots of love and HAPPY NEW YEAR!