Amanda Loves to Spank – Maisie Loves Spanking Stories part 2 (with audio)
Read part 1 here, where Maisie discovers that she craves and loves spanking.
Now this was interesting…
Amanda slipped the lid back on the black lipstick and checked for smears before twisting to answer the buzzing mobile.
The name Bimbo Upstairs was flashing. Poor thing, it wasn't the woman's fault she was attracted to arseholes, just a waste really. God, wondered Amanda, what dull shit does she want to talk logistics over… stocking up on salt for the front steps before the frost sets in? Starting a committee for fucking neighbourhood watch? Jesus Christ. Amada rolled her eyes, hovered her jet-black talon over the screen and pressed cancel.
The simpering lassie was bound to want something utterly banal and Amanda could not be bothered with it right now. She was busy perfecting her look for the party this Friday night.
She had on a latex ribbon-up collar with feathers either end to accentuate her long slender neck. Looking in the mirror she admired her cinched in wasp waist and pert tits perched above the steel boned corset. Fuck, she felt hot. Properly ripe and dripping beneath her commanding costume. She stood up from the bed and smoothed down her tight pencil skirt loving the way her fingertips detected the garters and stocking poppers. As she exhaled a long breath while she preened, it was arousing to see her own nipples harden under her gaze.
Her eye drifted to the antique silver-tipped cane in the corner—the crowning glory to her look. Ah yes, if only she could find a willing victim!
God damn it! Amanda clenched her fists and ground her teeth as the phone started buzzing again. Fucking hell. As quickly as she pressed cancel, it started up again. Bimbo Upstairs.
Fine.
Whatever.
"Yes?" she answered the call feeling jagged and spiky.
"Oh… hi… it's…" the voice sounded meek and pitiful. Amanda was instantly irritated.
"I know who it is, what do you want?"
A pause with fast ragged breaths piqued Amanda's interest.
"I said, what do you want? I'm busy." She feigned disinterest but her nerves were on high alert. Something in the way the woman was breathing screamed sex.
"You… I need you to come up here… now."
What? Wow, this really was interesting. There was a fractured desperation in her neighbour's voice. Amanda knew it all too well. That need, that overwhelming need for someone to deliver relief.
Just how did this little miss straight peg know?
"I don't know what you're talking about and besides, I'm not home." Amanda wanted to hear the woman beg.
"Yes you are, your music is on. Please…"
Amanda lowered the phone and, looking at the cane, ended the call.
She grabbed a robe to cover herself and a couple of soft floggers as well as the cane, something told Amanda this was not a usual occurrence for her prim neighbour and didn't want to put her off for good.
She checked herself in the full-length mirror wondering at how this woman had called precisely at the moment she was in character. And how completely out of character it seemed for the meek little neighbour upstairs.
*
The door was ajar.
"I'm in the bedroom," her voice called and Amanda noticed the usual high-pitched simpering had settled into the husky desperate tone from the phone earlier. It made Amanda want. It made her crave. The thought of biting into that virgin trembling flesh suddenly consumed her.
She let her robe fall and stalked through to the bedroom on her spiked heels.
Her breath caught as she witnessed the dishevelled scene.
Her neighbour lay face down, tangled in sheets, perspiration beading over her shoulders and thighs, her body was writhing in wanton desire. Her legs were spread open and a bloom of red smattered over her ass cheeks. But what drew the eye most in this deliciously debauched tableau was the sight of a tortoise shell hairbush between her thighs, with the handle stuck deep into the woman's quivering cunt.
Amanda felt a surge and release of liquid desire spill from her now twitching pussy. Never before had she been offered up such a peach.
"Well, my my, what have we here?" she asked, making her way around the side of the bed to inspect her prize… "Maisie, isn't it?"
A muffled mfff huh, came from the face buried into bedding. The burn and humiliation buzzing from the woman had Amanda literally pulsing between her legs.
"So Maisie, it looks like I caught you in the middle of something you couldn't quite finish…"
Maisie squirmed the affirmative and Amanda licked her lips.
"Well, Maisie," Amanda leaned in and trailed her fingertips up the backs of the spread thighs, raising goosebumps and a tremble.
"Lucky for you I know exactly what that something is."
With a flick of her wrist she administered a short hard slap to the crease where Maisie's thigh met her buttock and watched in satisfaction as the two fleshy globes puckered and tensed, hairbrush still wedged firmly in between.
"It seems to me you are someone who loves spanking, Maisie. And I am that someone who loves to spank…"
And as a squeal of delight escaped Maisie's throat, Amanda placed her palm on her delicious soft ass cheeks and made ready to administer the first spanking that may just change this woman's life…
Read Part 1 – Maisie Loves Spanking Stories.
This part was written in response to the Wicked Wednesday prompt, Out Of Character – click the rainbow to see who else is joining in!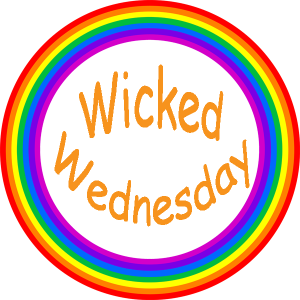 If you'd like a longer read and are someone who loves Spanking stories why not try one of these!