A Good Double Dicking – exactly what is says on the tin 😀
This is my first erotica here this year – and to celebrate, I wanted it to be super saucy.
Hope you enjoy!
A Good Double Dicking
Martina could not get the image out of her head. That of being crushed front and back by two solid men and two solid dicks sliding on up each of her holes, smearing herself in their scent and lust.
It consumed her every thought.
It was Annabelle's fault. The other night over another fucking glitchy stuttering Zoom call, Annabelle had suggested Martina's impatience with technology was down to the fact that she just needed a good double dicking.
Martina had laughed and told Annabelle to fuck off but by the time she'd left the chat, her knickers were soaked.
Fuck this fucking lockdown Martina thought as she writhed in her sheets, trying to get relief and shake herself free of the visions searing her brain. Two lithe torsos, rippling with those fucking muscle lines going from the groin to hip, what was that called? She'd spent the next 2 hours on Google images staring at inguinal creases. Holy fucking shit. She needed dick.
How could she orchestrate this now? Fuck Annabelle and her torturous suggestions.
Martina decided to create a fantasy so intricate and convincing that her brain would be tricked into thinking it was real. She set up two suction dildos on her shower wall, got her thickest anal lube and an extra vibrator just in case and stepped in. As she stripped and took her place beneath the water jets, she closed her eyes and visualised her fantasy.
She'd heard there was an underground illegal gym but it was only now as she trembled in the doorway that Martina truly believed. It was like stepping into the set of Fight Club. A hot knot of steaming sweaty male bodies pumped weights for as far as she could see. The place reeked of testosterone and each male was engrossed in working out and grinding their muscles. They barely noticed her as she walked among them, the tiny hairs on her arms standing to attention as if reaching out to touch them as she passed, assessing each one for suitability. They were so tightly packed she brushed against one, his sweat smearing on her shoulder. She closed her eyes and tipped her head towards the damp patch of skin and inhaled.
You'll do, she thought and curled her finger, beckoning him to come with her. And he did, of course he did.
The others were noticing her now as she cast her gaze around them, obviously sizing them up, appraising them for her use.
There, that one. He was doing curls and the weight he was lifting looked hefty, his bicep bulging as witness.
She tapped him on the shoulder and nodded to the changing room. The two men followed while the rest looked on. Perhaps she'd leave the door open for them all to catch a glimpse.
The three of them stood in the small room among the lockers and benches all strewn with clothing. Martina stripped off her flimsy dress to reveal her naked form. Her tits were tight with arousal, nipples peaking and just as she thought how good it would feel to be suckled, each man fell to his knees and took a breast in his mouth.
She cupped her arms around their heads pulling them deep into her. Their mouths were hot, huge and engulfed her flesh, raw and savage, her nipples were buffeted and swirled in hot hungry talented tongues.
Fuck yes.
Harder, they obliged instantly, bite me, they did. Nipping and pulling, they stretched out and elongated her tits and she trembled with electricity cascading down to her clit.
Her clit! She spread her legs, undulating her body to the rhythm of their greed and they read her. Hands slid up her thighs, grabbing, stretching, gripping her until they met at the apex, the entrance to her dripping needy cunt.
One hand cupping each arse cheek, the other probing and teasing at her pussy. She was in heaven. Her knees sagged and their huge arms took her weight easily while she opened up and allowed entry.
Thick rough fingers pushed their way inside, sliding past each other, pulsing in and out, pushing deeper until they filled her gaping hole.
Yes, harder.
The fingering became a fucking and she could barely tell how many and from who.
I'll take them all, she thought then needed more.
Stop.
The men stood.
Fuck me.
The men stepped back and she lifted a bottle of lube from the bench. Nice. She poured some into her palm and then their outstretched hands which were already cupped and dripping with her juices.
The sound of the sticky liquid as she smoothed it down onto her mound made her mouth water. She wanted to be wetter than she'd ever been. She sat on the bench and lifted her legs high and wide, administering the glistening liquid to her pussy and arsehole while the men watched, lubing up their dicks. It was a fucking horny sight. Two torsos, their inguinal creases catching the light perfectly to enhance the dip and curve right down to their root.
Ah yes.
Tighter, she commanded and the men fisted their dicks and squeezed, sliding up and down in synch while Martina ran the heel of her hand over her clit and pressed hard. Her cunt was twitching now and she was ready. So ready.
Fuck me now.
She stood in between them and reached her hands high. In perfect unison the men lifted her up so their dicks met just below her spread thighs. She wrapped her legs around the man in front and tilted her ass out so the man behind could make no mistake of her intentions.
This was to be hot, deep and fast as fuck, a good double dicking just like Annabelle said.
Now, Martina hissed through her teeth and gasped as the first cock speared her pussy, diving right inside while her clit pressed against his pubic bone.
She held her breath as the other probed at her rear, tentatively, but insistent enough to let her know it would be soon.
Yes, she whispered and let her head fall back on his shoulders as he breached her virgin hole.
Everything in her world became the place where those dicks met. Slowly at first, as her ass relaxed enough to stretch open for the invasion, she bore down tensing her pussy and relaxing her arse. It was a strange sensation and she felt pride at her control. The man in her ass pushed achingly slowly, widening her flesh, easing his way until he was finally inside and Martina let out a groan as both men let out a grunt. It was the hottest noise she'd ever heard.
Two cocks inside her. Two rock hard men pressing into her as she hung suspended between them. It was just as good as she'd imagined and she focussed everything into the physical sensations. Her body expanded and contracted as they began to move, lube spilling and slipping, everything gliding beautifully. Martina felt as if her whole soul was filled with glorious thick fucking dick. It was sending her to the edge of reason itself and her clit swelled and surged, it was going to be quick.
Harder, she wailed and the cocks shunted and jerked inside her as if jostling for space and she clenched hard around them, pushing herself to the crest of that wave. She rode them both for her life, humping and writhing, her holes plugged and expanded she was high, high, trembling and out of herself.
As she tripped into her climax the men and the world fell way and she was floating in blackness, eternity stretching out in all directions as she rode to the brink of existence.
Fuck Yes,
She heard herself roar and she came, crashing, covering everything with that splattering unexpected whoosh of orgasm that left her trembling, still doubly impaled and panting.
Water cascaded from the shower all around her as she came to, batting her eyelids open back into the here and now. Martina shuddered and pressed her palms into the opposite wall, pushing all her weight into the two dildos that filled her.
She laughed into the steam filled shower and stilled, letting her heartbeat slow before easing off the big fake dicks and lowering her feet to the floor. Her calves were tense form straining on tippy toes for so long.
Martina thought about her two gym guys. The perfect pair to administer an awesome double dicking.
And that night when she calmly rejected a Zoom call and flipped the laptop shut, Martina thought about her friend's sexy suggestion, Annabelle had definitely been right, she mused.
And there you have it – A Good Double Dicking and a happy 2021 to you!
Header image is a painting by me for Truth, an erotic anthology.
I'm linking to the lovely Little Switch Bitch's Quote Quest – so click on there for more sexy shenanigans x x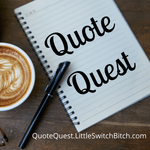 Apologies for not having an audio file yet – my to do list is a bit long right now… but do check my audio porn page – as seen in Cosmo!
If you like MFM threesome action – you might enjoy The Dinner Guest