At The Butcher's – a #EuffOff Delight
Yes, it's that time of year again, the EuphOff is upon us.
A note before we begin. Those of you who follow my blog are hopefully aware of my dedication to the erotic genre. I truly believe that with erotica we have a real insight into the human psyche. We can explore all the wonderful nuances of what it means to be human in all it's vulnerable glory. The erotic genre, in my opinion, is one of the most important in terms of reaching deep into our souls. And it isn't all shagging either.
When I write my stories, often it is my intention to have you, my readers dripping from your eyes *and* your nether regions. Today, is most definitely one of those occasions.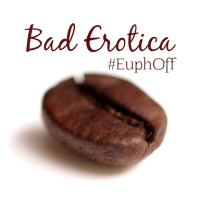 I give to you… my EuphOff entry:
At The Butcher's
Billy the butcher had some deft skills behind the counter…
The first time he'd passed Betty her lamb wrapped in greaseproof paper he'd winked and said, 'I'd fair like to wrap my chops round your chops.'
She'd been tenter hooked.
Billy had a superb cut of sirloin as far as Betty could tell and she was more than keen to beef up her wellington and no mistake.
"Oi Billy, mind I like my rump properly tenderised," she'd said and he'd licked his lips and invited her round to the back shop.
"I've got a good mind to throw in some stuffing too, you cheeky bird." The glint in his bull's brown eye had Betty's juices running clear in no time.
"Now now Billy, watch I don't squeeze your mincemeat too tight in my sausage grinder."
Betty scampered round the counter and under Billy's thick arm as he held open the door to the back shop and glanced to make sure no customers saw.
"What will it be madam?" asked Billy, wiping his bloodied fingers on his striped apron.
Betty's eyes widened at the swelling straining through the fabric near his tender loin and ooo how she longed to see his love sausage for real and not just the slippery fatty ones spitting in her frying pan.
"I'll take two pounds of your prime stuffing and make sure it's not padded out in that cheap rusk, I'm a lady of quality."
"One prime stuffing coming right up ma'am." And with that, Billy whipped off his apron and pulled out his enormous bone, all slippery and glistening with his manly goose grease already.
"Oh Billy," Betty said, trembling as her own moisture began to drip from her beef curtains.
She pulled down her knickers and fell to her knees onto the concrete floor.
He tasted gamey like a well hung pheasant, and well hung he indeed was.
"That's enough, I don't want to sizzle and pop already, here, turn around and let me tenderise that rump of yours. I fair need to marinade my brisket in some nice hot dripping."
Billy pulled out a sheath and slipped his meaty sausage in as deftly as mincemeat oozing into cat gut and slid his cartilage-hard package right into Betty' giblet hole.
"Oh you feel like a nicely tied ham joint with the thermometer about to ping."
Betty was pleased and squeezed him with her muscles until she basted his meat with her fluids.
Ever the gent, Billy reached round to her love gristle and pressed it hard as he thrust deep behind her. It was beyond thrilling and before she knew it Betty was crying out, "Yes Billy, yes! Dip your chicken drumstick in my barbeque sauce! Harder harder, get yourself coated in my smokey goodness."
"I am, I am, woman!" Roared Billy as he shunted out his creamy offal into Betty.
"Oh Billy!" she wailed as she released her own oily pleasures.
Yes, Betty loved a visit to the butcher's shop.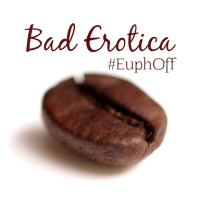 Well, if that doesn't turn you vegan, I do not know what will! 😉
Cheers to The Other Livvy for hosting this glorious festival of terrible filth! The EuphOff is an annual competition to find the worst erotica on the internet!
Mine is not an official entry as I'm providing some of the prizes this year, it was one of my proudest moments to be crowned the EuphOff Champ a coupla years ago.
Pop on over to Livvy's to find out how to make an entry (matron) of your own and see what you can win!
Lots of love
Tabitha x x x
Because I love the EuphOff sooo much, I'll give you 30% off at checkout over at Ruby Glow (my sex toy shop) – use the code EUPHOFF19 – free P&P too x x x