I'm here to share my excitement that I'm a nominee in the Best Erotic Writer 2017 category in the Erotic Trade Only Awards!
The category of Erotic Journalist and Erotic Author have been combined into one award this year so I'm especially shocked and thrilled to be named amongst these awesome writers – Girl On The Net (winner of last year's Erotic Journalist award), Cara Sutra (winner several times over), Ella Scandarella, Victoria Blisse (fellow nominee las
t year)
There is to be no actual award ceremony this year so I won't get the chance to stumble about on the dancefloor busting spectacular moves among the sexy erotic trade folks, but I will be putting on my best Barbara Cartland dress and eating cherry liqueurs while lolling about on a chaise-longue for the next month…

If you would like to vote  – there's plenty of other categories to pick your faves from too – you have to register, but it's quick and painless and the folks at Erotic Trade Only magazine are lovely.
So I thought I'd share some links to some of my writing in case you haven't read any! Here's a selection of bits and bobs I've published on my blog to get you in the mood with your clicky swipy finger (matron)
Words of Fuck – a story of silent communication
Southpaw – for all you boxing fans…
Spray – lady bukake
Migraine – A Sexual Spiritual Explanation
A Visit to the Mechanic – bad erotica at its worst 😀
Hope you enjoy!
Ooo, you can subscribe to my newsletter here – and get a free novel, though I only send out 3 or 4 a year (I'm hoping to improve this 😉 )
Good luck and congratulations to all the nominees over all the sexy ETO categories!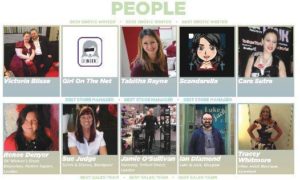 Some lovely folks here!