Here's my Awkward Hands for Sinful Sunday
For more Sunday Sinners – click on that sexy pout
Story behind Awkward Hands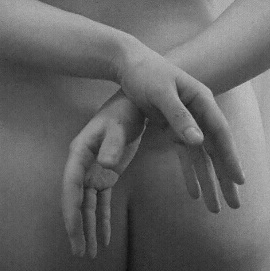 About 7 or 8 years ago, in my early thirties I was struck down with viral arthritis. It was the worst pain I'd ever endured. Every bone in my body felt like it was broken and it took a long time to recover.
Recently, I have begun to notice a familiar pain in my wrists and thumbs – a classic point for arthritis. I have taken this photo to today to represent how debilitating this kind of pain and the weakness that comes with it is. Your hands might as well be tied behind your back at times. I'm hoping it will just disappear but at the moment using knives, lifting a cuppa and undoing buttons are all accompanied with a little intake of breath.
So why this for my sexy erotica driven blog? Well, while I was in the midst of the first bout, I could barely pull my knickers off, let alone attend to self-loving. This was one of the reasons I persevered with designing my Ruby Glow (hands-free vibrator) I realised how good it would have been for me at that time in my life.
Now, as I fear it is looming again, at least I know, when it comes to a good old masturbation session, I won't miss out 😉
Also – the absolute best thing bout being a writer or inventor or any other sort of creative, is that whatever you are going through, part of you somewhere is rubbing its hands in glee and storing the experience away for future use.
Funny how things come full circle.
Thank you for reading on! If you suffer from arthritis pain I would like to recommend Arthritis Recovery – this lady is amazing and cured her rheumatoid arthritis through diet and cider vinegar.
If you struggle with mobility and masturbation, may I recommend my Ruby Glow saddle style vibrator. Called 'revolutionary for disabled users' by Tracey Cox and featured on This Morning and Good Housekeeping vibrator reviews.
If you'd like £10 off a Ruby Glow original – hop over here and add ODAY19 to the checkout – FREE postage worldwide! .
Love
Tabitha x