*Trigger warning* kidnapping theme
Damsels in distress. Penelope Pitstop escaping the Hooded Claw. Ladies in billowing underwear tied to train tracks while their captors cackle. Oooo the thrill. The rise of the hairs on your arms and goosebumps down your spine.
When Marsha was a girl, a child was kidnapped from the next village along. It was terrifying. They were all alerted to Stranger Danger. Marsha slept with a penknife under her pillow.
But as she grew, her inner self betrayed her. She knew it was bad to be kidnapped. She knew it would be horrifying to be taken away from her loved ones.  She knew that to be tied up directly in the path of a speeding train would be dreadful, but still, her inner self betrayed her.
She would fantasise about walking along the side of the road on a summer's day. A country lane lined with flowers and trees. Birds would be tweeting, the sun would be shining and Marsha would be wearing a pristine white sundress with petticoats beneath. She'd be barefoot. She'd be tra-la-la-ing completely unaware of the dark dangers that lurked in the ditch just to her side. She'd pause to pick daffodils and place them behind her ear… the action of slowing down sending that thrill up her back. Her breath would catch and she'd hold it high as the grasses rustled around her. Every part of her would be on alert but she'd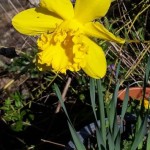 feign innocence, picking up her skipping and humming as she went. Then, Alice in Wonderland style, Marsha would find herself falling down through the ditch wondering when she would ever land. The next part is dark with Marsha tied up, arms over her head and people looking at her.
When her brain delves into this darkness, Marsha knows it is bad to be excited by such things. She knows it would be a scary and dangerous situation in reality but she is thrilled by it. Then, the guilt and shame she feels makes her blink her eyes and pull her roaming fingers back up to the safety of her abdomen as she  thrashes her head into the pillows to rid herself of the images.
She can't help it. The next day she'll seek out vintage pictures of tied up damsels not sure of what it is all supposed to mean. And that night, she'll walk the same country roads with daisy chains in her hair and excitement bubbling high in her chest.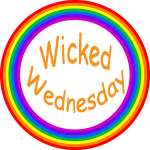 The prompt for this week's Wicked Wednesday is books – click on the rainbow for more…

Kink of the Week is kidnapping/capture click on the lips for more…
Image source – I took a photo of a page in my copy of Dita Von Teese's fabulous book, Fetish and the Art of the Teese