My stories included in good ol' paperback books!
The Clockwork Butterfly Trilogy
Book1
A Clockwork Butterfly
Book 2
Taking Flight
Book 3
The Meeting Point
"Find
me at the meeting point. We are more than the physical."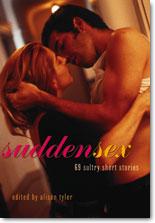 Sudden Sex!
69 Sultry short stories edited by Alison Tyler from Cleis Press.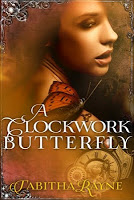 A Clockwork Butterfly –
My erotic fantasy novel where the love of a woman can save humanity…


Smut in the City

New release from the Smutters! In ebook too.

Lots of sexy stories with cities as the back drop.

My story, The Conjurer, is about a woman who is losing her sight finding solace and healing in an erotic experience.

http://smutters.co.uk/smut-in-the-city

Smut by the Sea


Yes, yes, yes! Lovely saucy seaside action with loads of my favourite erotic authors… lovely.


My story, Una's Retreat is an underwater meeting of sexy joy.

Kinky Girls

I have a real soft spot for this very saucy
collection as it features my very first published erotic story, Retail
Seduction.

Dark Desires

Get all spooky with another 20 tales of raunchy erotica from the dark side…

Dead Sexy

An anthology dedicated to awakening your darker seductive side…
I am The Moon, is a lunar inspired romp in the natural history museum.

Wanton Women

Erotic encounters with the ladies…

Roses & Figs is my story to get your juices flowing.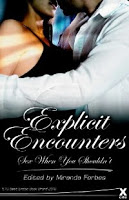 A naughty session,
The Therapist
Explicit Encounters
All sorts of goings on in this saucy anthology – shorts for you to indulge your fantasies.


Contains, The Relapse – an unexpected ménage.


http://www.xcitebooks.co.uk/Book/6589/A-Lesson-Learned.html