#SSoS or #SoSS or Who Cares, Let's all do Shares! & Top 100 Sex Blogs
Hiya, well it's Saturday Night and I'm here to share a couple of sexy things for the #SSoS or if you prefer #SoSS – it's all fine – basically, Saturday Share our Shit if you aren't familiar (read post here) is to help sex bloggers/ writers/ erotic creators share our work across our various blogs and sites to shed some light on the delightful work out there – which might be banished from certain social media platforms.
So don't be shy – get your hashtag on and share too! Everybody is welcome and guess what? You don't have to do it on a Saturday! (it's only a Christmas miracle that mine is up today) There's no rules, just sharing the things you've enjoyed recently (or even something you remember from a while ago that you think more folks out to read/ experience).
Here's a small list from me:
Holy Fuck, this is sleezy, dirty filth words from a cut glass voice. Everything about this makes me squirm in delight.
This was another movie themed post – poignant and sexy from Elliott Henry.
This is a photo from Marie's Sinful Sunday post a couple of weeks ago – again, it's poignant and has stayed with me.
Leafy Tweet
I wanted to include a gorgeous tweet from @19Syllables but I can't find it – basically, she's been writing Haiku on fallen leaves and just leaving them about for lucky people to find. How wonderful is that? So charming. Follow her – she's a dream…
*edit* she sent me it!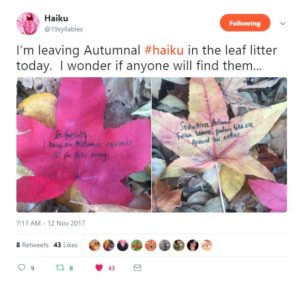 I couldn't let today go by without sharing a Christmassy post! Here's one I love from the very first day of Blissemas (a sexy advent calendar by Ms Blisse – happens every year!) – I have a real problem with religion but I absolutely adore the joy and love that Victoria spreads with hers. Her faith gives me faith. This post says it all x x x
Top 100 Sex Blogs
And onto the HUGE news of the day! Molly Moore's Top 100 Sex Blogs of 2017 is out NOW!!!
Congratulations to everyone on the list and a special hug to Molly for all her hard work and a double squeeze to Kayla Lords for winning the no.1 sex blogger spot!