I Paint the Things I Want to See
Sable teases skin
Brush strokes sweep over my curves
Dipping into me
***
So I think unless there's been an extension, I've missed the deadline for Exhibit A's erotic story competition by about ten minutes – which is ok since I thought it finished on the 5th of November and I'd missed it completely! The prompt was song lyrics.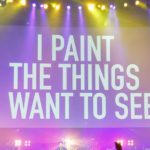 So here's a wee painting and haiku for fun.
Go take a look at the other entries! There will be some gorgeous sexy tales, I'm sure of it.
See ya soon,
love Tabitha  x x x