My Cup Runneth Over – a Sinful Sunday post
Isn't it incredible how one word can conjure so much thought? Molly's Sinful Sunday prompt for September is Blue…
Before I go on, this might be quite a jumbled post, so if you want to skip to the other Sinful Sunday entries, please just gently kiss those lips! (I honestly won't be offended if you pop off now 😉 )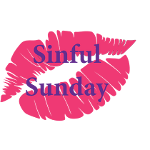 Ooo, thanks for sticking with me 😀 
So I was searching my mind trying to think of a pose/ image and couldn't think of a thing, that is, until I found a small blue plastic picnic cup left over from a day on the beach yesterday.
I was thinking about being a vessel, then the phrase My Cup Runneth Over came to me. It is kind of fraught with childhood churchy angst which I haven't quite revealed here yet. I'm not sure I ever will, but it is quite an emotional subject for me…
Anyhoooo, the image of cups and vessels overflowing got me thinking of female arousal and squirting. A sated pussy releasing gush after gush of pleasure. Which also happens to be this week's Kink Of The Week.
Squirting
I haven't achieved the magic art of squirting yet. I first mentioned this in my post, Dolphin Dreams, which my sister read and was utterly amazed that I wasn't a squirter. She couldn't believe it and went on to explain a few things. Basically, you have to really let go of your inhibitions and let your body go loose. Just relax and almost bear down into your pussy, open up and just let it go. So now I think I can understand why it might be hard for me. I hold my cunt tense most of the time. I stand straight and tip my pelvis up to 'hold it all in'. I have to really concentrate on relaxing my yoni area.
So this is my lesson to myself. To release and relax. The good news is, I don't feel in any way that my sex life is lacking, my lover or my technique is not in question, I won't feel cheated if I never achieve this. But at least I do know how I can help it become a possibility.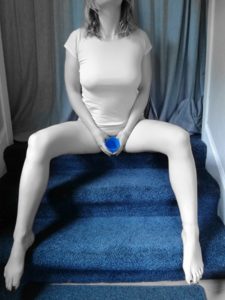 These two images are my illustration of this.
All from one word, Blue.
For more Kink of the Week – click these Ruby Reds

Thanks you for reading!
love Tabitha
x x x