Yes, They're Both on My Blog!
Ok so it is my utter joy and delight to introduce to you my talented friend, Oleander Fucking Plume, ladies and gentlefellows! She is the creator of Horatio Slice, Guitar Slayer – and she's here to tell us all about her dirty Sims cheats.
I fucking LOVE this woman! And this book, it's like Hellboy on Viagra and I'm NOT joking 😀
Take it away Ms Plume x x
Last week I revealed my love of The Sims here: http://hornygeekgirl.com/horatio-slice/, ending the piece with a promise to share all my dirty Sims secrets here with my delightfully talented friend Tabitha Rayne.
Let's get to it, shall we?
If you've ever played The Sims, you are aware of the pixelated censors Electronic Arts uses to give the game a sense of modesty, which I totally get since youngsters also play the game. While I wished for an "adult button" I could press to do away with the censors, I had no idea such a thing existed until I stumbled across the information on a Sims tutorial site.
Imagine my delight when I discovered I could not only remove the pixilation, but also allow my Sims to engage in *gasp* the sex.
(Like the game wasn't addicting enough already.)
You might be thinking, "Duh, Oleander, we've all watched our characters "woohoo". Big deal."
No, my naughty friends, this goes beyond the bed shaking and fireworks. With a few cheats, your Sims can take "woohoo" to "WOWHOO". Would you like to know how? Yes? Then, please proceed. (Note: these hacks only work with The Sims 4.)
First: find all the cheat codes here (link is NSFW): http://www.loverslab.com/files/file/3169-wickedwhims/
Included in the link are all the necessary add-ons, like body parts, and animations that allow the hack to work. You will need to join to download files (it's free).
Ready for some WOWHOO?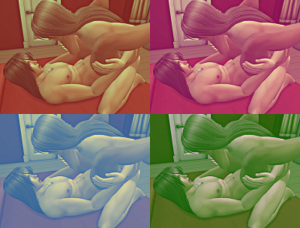 How did I capture the pics? Two ways. One, pause the action. Use the camera button and snap a pic, it's really that easy. Occasionally, you need to move the camera around to get the proper shot, just like you would when using an actual camera in real life.
Another option is to use a "pose player" which is a bit more involved. This one is the best I've found: http://sims4studio.com/thread/2617/andrews-studio.
Once you've downloaded that, you can go on a treasure hunt for various poses. Yes, there are some NSFW poses, you might even find some here: http://sssvitlans.tumblr.com/poses. After you've captured some hotness, upload it to your favorite photo editing software and go crazy!
(you can add all the other pics here!)
Would you like to read the words that inspired those? Pick up a copy of Horatio Slice: Guitar Slayer of the Universe today!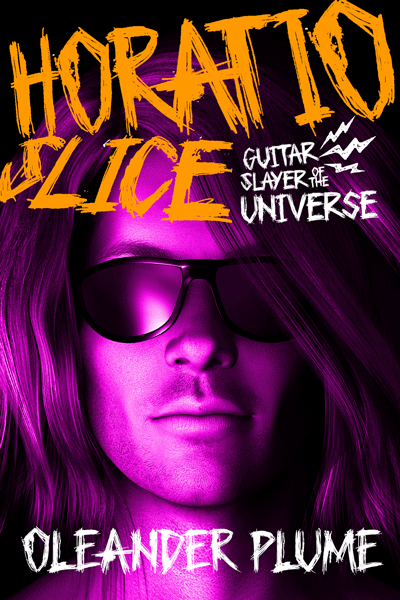 Thank you Ms Plume! Here's all those juicy buy links – I recommend buying direct from the fab Go Deeper Press – they're a dynamic duo of hot challenging literature x x x
Here's some links for more Oleander too…
Blog: http://poisonpendirtymind.com
Book trailer – A MUST WATCH!


Horatio Slice: Guitar Slayer of the Universe official buy links:
Inktera
Treat yourself today! Thank you for stopping by x x