When a photo goes a bit wrong, but you think, what the hell… Here's my Sinful Sunday,
Lying in Wait
I arrived early. I thought I'd grab the chance to take a photo. I balanced the camera on my toes. This is the point where it just started to tip and fall.
Click those lips to see more Sinful Sunday images <3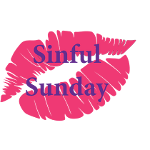 Life has been squeezing my online chat recently – I haven't even blogged about being on Watching Distant, Clear Eyed Girl and Mistress 34FF's new chat show, #PlayingOutLive yet! We had such fun exploring the delights of masturbation and I talked about the #30DayOrgasmfun project. Listen right here! Some very sexy voices going on.

Listen to "Playing Out Live 01 – Playing With Ourselves #PlayingOutLive" on Spreaker.

I missed two days of orgasms this week and felt a real dip in my mood this morning. Thankfully, I found the time to rectify the situation this afternoon… 😉
For more info of this project, please read my original post here – join in! Have fun, let your cares drift away…


 See you soon!
love Tabitha x x x
ps – sign up to my newsletter for a free book and all my gossip x x