A Feasting Goat Boy – Fantasy Art for Sinful Sunday
"Tie me to your headboard, throw your legs over my shoulders and let me wear you like a feed bag." Bill Hicks
Why hello,
I didn't have a photo for Sinful Sunday but last night after watching The Super Orgasm on Channel 4 – (brilliant show! Watch it – I will have more to say on that another time) – I turned the TV over and happened upon an old sketch of Bill Hicks doing the above quote as Goat Boy.
As he simulated cunnilingus on the microphone, I realised it was one of the most horny depictions or oral sex I'd seen. I couldn't get it out my head all day and had to draw some fantasy art to accompany it.
When I watch porn, I often get turned off by the way oral sex on women is shown. A guy, mouth open, sticking out his tongue and flicking it over a whimpering lady's pussy.
The reason I found Goat Boy's simulation so much sexier was because he was devouring, feasting, gobbling up this moment as if it was the only thing of importance in existence.
And that's horny.
Anyway, hope you like it!
As ever, click on those sexy lips for more Sinful Sunday photos from sexy peeps around the web…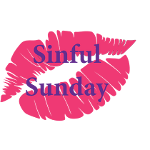 Don't forget to join in my #30DayOrgasmFun too! For a mental health boost 😀
love Tabitha x x x